By Stephen M. Timko
Morning Sun Books 2016
ISBN 1-58248-522-4

Review by Dan Bourque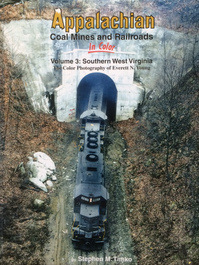 Stephen Timko's latest offering in his Appalachian Coal Mines and Railroads in Color series is Volume 3: Southern West Virginia. Like Vol 1 and Vol 2, Timko has teamed up with photographer Everett Young to provide another up-close and "in the hollers" look at the coal fields, this time in West Virginia. Not surprisingly, this book is just as much of a "must have" as its partners in the series, especially for those who like diesel-era railroading in the coal fields.
If you have either of the first two books, you know exactly what to expect with this one, and you won't be disappointed. It's full of outstanding photos and excellent captions that give an insider's look into the operations of this area. Though the title says "Southern West Virginia," it's really a look at the former Chesapeake & Ohio coal fields. It's arranged by subdivision, so it's easy to get a feel for the unique operations of each branch. The focus is definitely the coal branches with little coverage of the mainlines. The focus is the '70s and '80s, a time full of transition from WWII-era tipples to truck dumps and flood loaders, and a time of consolidation and streamlining of operations. It's also a time of colorful consists showing the patch jobs and grungy colors of every railroad that merged to create CSX. In addition to CSX and former C&O lines, there are also a few pages on the tiny Winifrede Railroad that connected with the CSX/C&O.
The value of this book lies in the tipple photos and captions covering rarely seen areas and hard-to-reach corners of Appalachia. About half of the 270+ photos feature a tipple of some sort, and most of the other half show yards, facilities, structures and "mine critters" which is what makes this book so essential for coal field modelers. This area has been well covered in the steam and transition era books produced by the C&O Historical Society, and these books complement this one allowing the reader to clearly see the similarities and changes a few decades made to the tipples, yards and scenery. Like the previous volumes, the ONLY negative comment I have about this book is the lack of maps. A few maps with station names and simple track drawings would go a long way toward orienting the reader to the area and photos. Steam Powered Video's Railroad Atlas of North America – Appalachia and Piedmont is useful alongside this book to compensate.
If you already have the first two books, this is just as good as the others, so you know you should get one. If you don't have the others and are interested in diesel-era coal railroading, you should really consider picking up all of them. This whole series is excellent and fills a big void in covering this era in the Appalachians. While it's incredibly valuable for the modeler, it's still a great resource for train fans who just want to understand branch and coal line operations.
Subject:
Photos from the former C&O coal fields of West Virginia in the diesel era
Primary Era:
1970s-2000s (primarily '70s and '80s)
Facts:
Pages: 128, Cover: hardcover, Photos: 270+, all color

Photos:
Great photos, especially of rarely seen tipples and branches
Text:
Only photo captions, but excellent and informative that gives depth and context to the photo
Maps and Diagrams:
None – the only negative of this great book
Value for the Modeler:
Outstanding source of hard-to-find photos of tipples and great operations information
Purchase Value:
Not cheap, but reasonable for the number of quality color photos and valuable information


Related Products: