By Stephen M. Timko
Morning Sun Books 2012
ISBN 1-58248-373-6

Review by Dan Bourque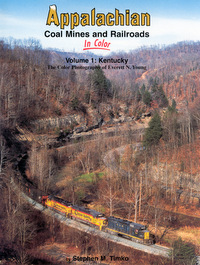 I can't believe I waited two years to finally buy this book! in Appalachian Coal Mines and Railroads, Vol 1, Stephen Timko has teamed up with photographer Everett Young to cover the coal fields of Kentucky. This book has the feel of a photo album with the pictures telling the majority of the story, and it's a "must have" for those interested in the Appalachain coal fields in the diesel era.
First and foremost, the photography in this book is excellent and well reproduced, and that's good because it's the star of the show. The book is arranged by locations, and the photos cover the era from the '70s to the present with most photos being from the '70s and '80s. All the major railroads of the Kentucky coal fields are well represented, and areas covered include the C&O's Big Sandy Sub, The Clinchfield near Elkhorn City, the N&W's Kentucky branches of the Pocahontas Division, and the L&N's coal branches. There are also snippets on the Southeast Coal Company and the Kentucky & Tennessee.
There is no text, per se, only photo captions. Having said that, the captions are well written and do a fantastic job of explaining the context of the scene–which train this is, what it's doing and why, some history of the loader, etc. They give you a real feel for the operations of these areas. A good portion of the photos, perhaps 1/3, feature a coal loader along with the trains. Because most of the photos are from the '70s and '80s, the loaders are a great mix of decrepit pre-war tipples in their last days, truck dumps that look cobbled together from old parts, and new flood loaders. The photos do a great job of capturing the gritty, dirty, get-it-done-before-the-tracks-collapse feel of the coal fields during the coal boom. Another bonus is a large number of tipple switcher photos showing second-hand power of all sorts assigned to many of the mines. Perhaps my only complaint is there aren't any maps to show where these photos are in relation to one another, so I found my Railroad Atlas of North America – Appalachia and Piedmont by Steam Powered Video to be a valuable reading companion for giving context to the locations.
This book is a real gem, especially for those who model the Appalachians in the coal boom. It will inspire with it's beautiful photography, informative captions, and great coverage of dozens of loaders that just beg to be modeled.
Subject:
Photos from the coal fields of Kentucky featuring many railroads in the diesel era
Primary Era:
1970s-2000s (primarily '70s and '80s)
Facts:
Pages: 128, Cover: hardcover, Photos: 250+, all color

Photos:
Excellent photos with great coverage of tipples and branches
Text:
Only photo captions, but excellent and informative beyond what's obvious in the photo
Maps and Diagrams:
None – my only critique of this great book
Value for the Modeler:
Great source of tipple photos and good info on operations to be gleaned
Purchase Value:
Pricey, but not unreasonable considering the number of quality color photos
Related Products: