By Stephen M. Timko
Morning Sun Books 2014
ISBN 1-58248-419-8

 Review by Dan Bourque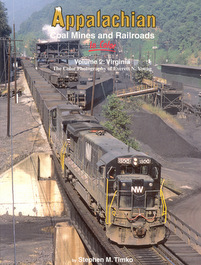 Stephen Timko's Appalachian Coal Mines and Railroads in Color, Vol 2 follows-up his earlier work on Kentucky with a photo album covering the Virginia coal fields. Like volume 1, Stephen has partnered with photographer Everett Young to produce a stunning pictorial of the life of Appalachian coal hauling railroads in the diesel era.
If you own volume 1 (see review here), you will not be disappointed in the sequel, and you know exactly what to expect. There is no text to speak of except for the photo captions, but they're packed full of great information about the scene and information about what the trains are doing. It is arranged by railroad and line, so it's easy to follow, and as an improvement to the earlier book, he includes two small but detailed maps with town and station names to allow the reader to find where the scenes are in the big scheme of the railroad. The quality of the photos and production is outstanding throughout, and the captions are detailed and well written.
The primary era covered is the 1980s and 90s with some photos from the 1970s and 2000s. This was the era of transition between smaller truck dumps and tipples and large flood loaders, and the mix is shown well in the book. Railroads covered include the Norfolk and Western, Norfolk Southern, Southern, Interstate (Southern era), CSX, Clinchfield and Louisville & Nashville. The majority of photos are "in the hollers" at the tipples and on the branches making this a great resource for modelers.
Diesel-era modelers of this area will find this book inspiring and full of modeling projects and operations information, and I also recommend it to anyone interested in modern Appalachian railroading, especially if your the sort who prefers beautiful pictures to long prose.
Subject:
Photos from the coal fields of Virginia featuring many railroads in the diesel era
Primary Era:
1970s-2000s (primarily '80s and '90s)
Facts:
Pages: 128, Cover: hardcover, Photos: 270+, all color

Photos:
Excellent photos with great coverage of tipples and branches
Text:
Only photo captions, but excellent and informative beyond what's obvious in the photo
Maps and Diagrams:
Only two maps, but they are detailed and helpful
Value for the Modeler:
Excellent source of tipple photos and good info on operations
Purchase Value:
Pricey, but reasonable considering the number and quality of the photos
Related Products: