Size: 62′ x 102′
Scale: HO
Minimum Radius: 30″
Minimum Aisle Width: 36″
Designed by Dan Bourque

Before you say "you're crazy," this was just the product which emerged after I asked myself the question "what layout would I build if time and money were no object?"  What I settled on was modeling the entire Interstate RR as close to the prototype and with as little compression as possible.
Before I got started, I layed out some "must haves" and "wants."  Some of the must haves were 36″ minimum mainline radius curves (30″ branchline), 36″ minimum aisle width, and no duckunders.  Some of the wants included modeling all of the loaders, all mainline trackage, single deck, prototypical grades, working interchange railroads, and separate rooms away from the main layout room for all the branchlines.  It took this big of a space to achieve all these goals!
The Layout
This layout includes all of the Interstate mainline and branch-line trackage and every tipple in operation around 1957.  All mine runs operate out of Andover to serve their respective branches, and there are several working interchanges:  Appalachia (Southern/L&N), Dorchester Jct. (L&N), Norton (N&W/L&N), and Miller Yard (CRR).  All the supporting railroads are fully operating, and two (Southern and N&W) even have their own full yards to dispatch mine runs from.  Despite its size, the locomotive fleet would be very small (the Interstate only had 10 diesels) but the hopper fleet would be huge with near-prototype sized trains.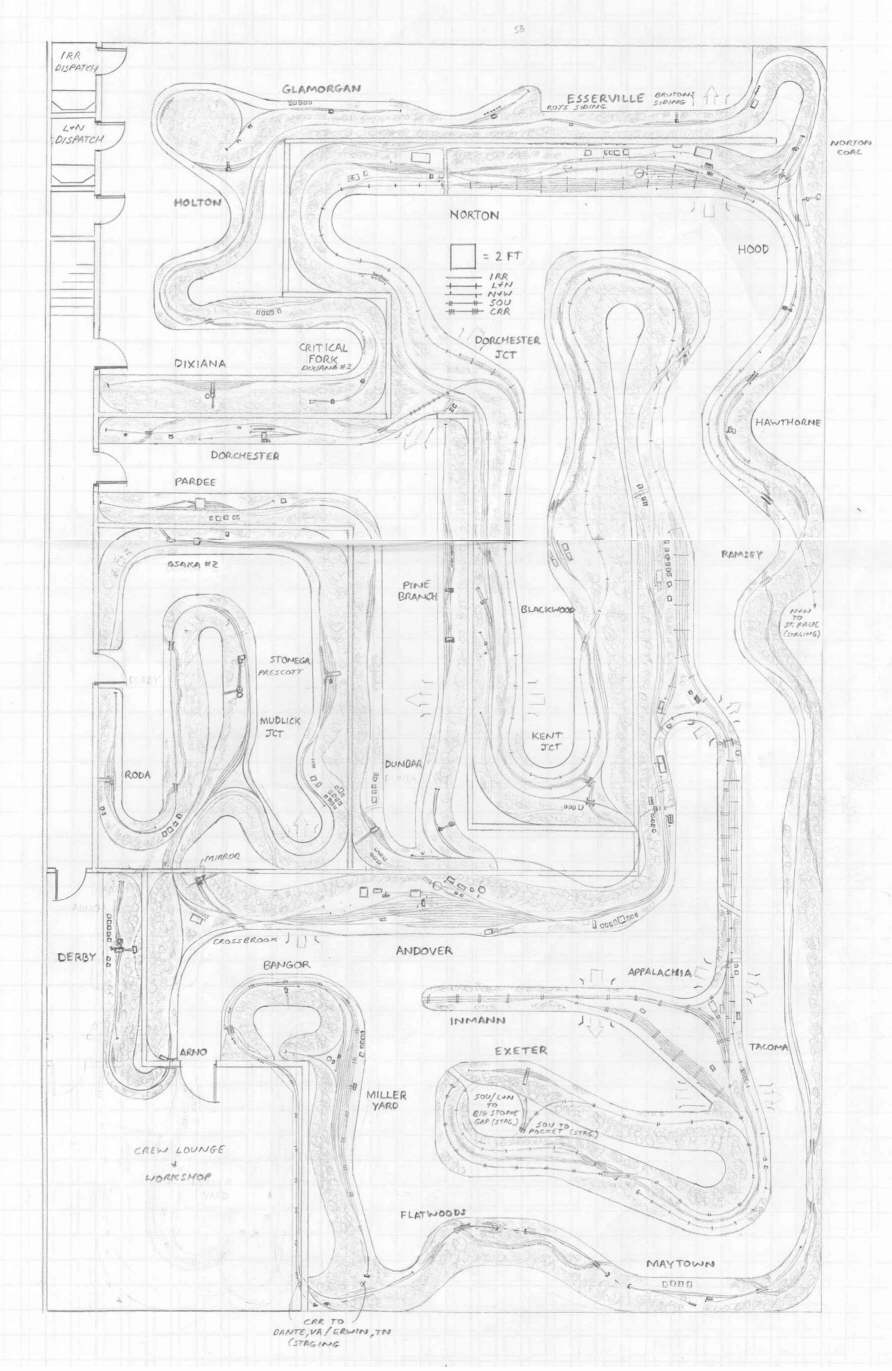 Operations
Operations would be very close to the prototype due to the small compression factor (about 1/3-1/2 compressed).  To account for this, a 3:1 fast clock would work best with each operating session representing only 12 hours.  One session would be the AM session with all of the first mine runs, and the next session would be the PM session with the remaining mine runs and lots of extra mainline runs trying to clear all the cars off the line before midnight to save per-diem–a very Interstate thing to do!  This would also allow a tipple to be serviced twice per day in prototype fashion.
The Interstate would need several crews each day, and all would  begin in Andover. 1-2 crews would perform the switching chores at Andover building mine runs and classifying incoming coal for the various interchanges (L&N, Southern, N&W and Clinchfield) and working the nearby interchanges in Appalachia (L&N and Southern). Mine runs would be assigned to work the tipples on each of the branches including Roda/Stonega, Roaring Fork and Dixiana/Glamorgan as well as the main. A Norton Switcher would work the industries, loaders and busy interchange at Norton. Finally, a couple of Hill Crews would be needed each day to take traffic to the Clinchfield at Miller Yard. These trains would leave Andover with a handful of cars and pick up most of their train at the L&N interchange at Dorchester Jct where the L&N would drop trainfuls of hoppers and merchandise traffic for the Interstate to run to its corporate partner, the Clinchfield, with which it has no direct connection.
The thing I like most about this plan is that all of the branchlines have their own room away from the main layout room.  A crew (mine runs would definitely have an engineer and conductor) would run out of Andover, head off the mainline, and spend the next couple of hours on their own in a room completely separated from the mainline.  Now all I need is a couple million bucks. . .
Things I Like About this Plan:
Faithfully represents entire Interstate RR
Very little compression
Branchline operations separated from the mainline
Vast majority of trackage closely follows prototype
Working interchanges with Southern, L&N, N&W and Clinchfield
Very little staging needed (no Interstate staging)
Things I Don't Like About this Plan:
It's HUGE
Even though there are no duckunders needed, some crews would have to walk long distances to get their train from branchline to mainline
Related Products: