Size: 17′ x 22′
Scale: HO
Minimum Radius: 30″ (28″ on wye)
Minimum Aisle Width: 36″
Designed by Dan Bourque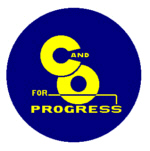 This layout is designed to fit into roughly half of a standard two-car garage.  It oozes over the centerline a little, but you may still be able to squeeze your wife's Volkswagon into her half 😉
The Layout
This layout focuses on the C&O's Cabin Creek Branch, a coal producing branch in the Kanawha Coal Field.  The branch exended from Cabin Creek Jct. on the C&O mainline just east of Charleston, WV.  There are several great pictures and a description of this branch in the December 2001 Trains Magazine.
Like many of my coal branch trackplans, this one is double-decked with the main portion on the upper deck and the "supporting cast" of tipples and branchline underneath.  The focus of the layout is Cane Fork, a small yard in the middle of the branch.  The rest of the layout is dedicated to many of the loaders along the branch.   I must admit, I could not find much information on the track layouts or tipples of the branch, so many of the track arrangements are guesses.  Kayford, in particular, was a spaghetti bowl of track, so my trackplan in this area is oversimplified.
Upper Deck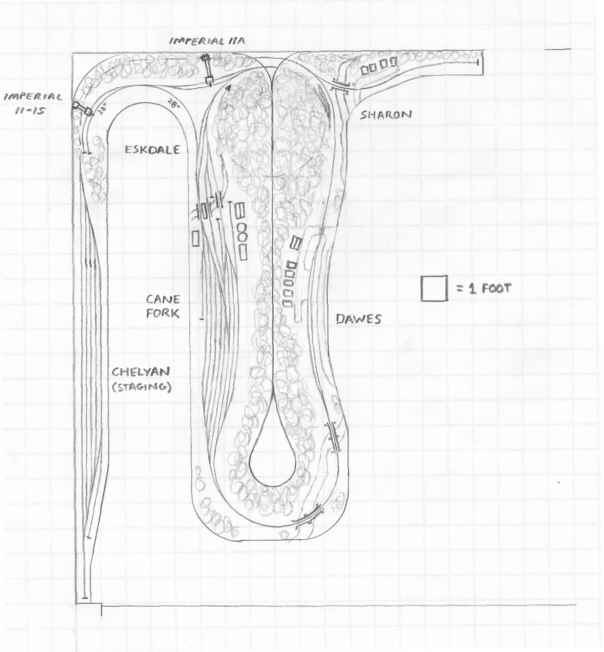 Lower Deck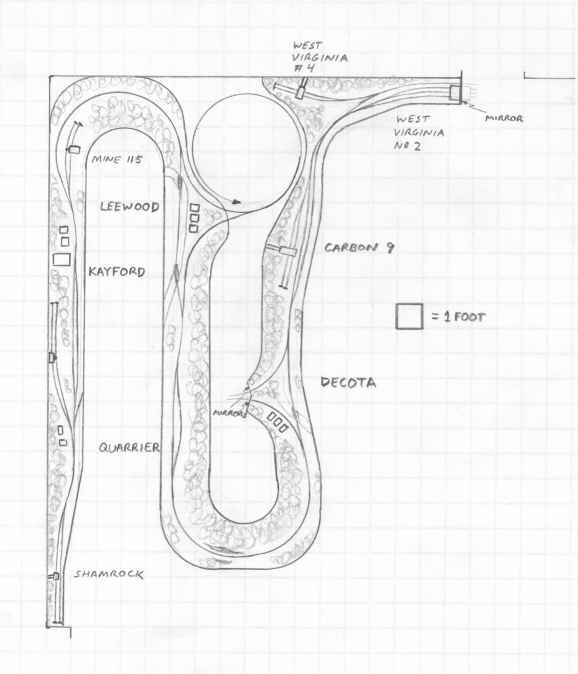 Operations
Operations on this layout would be comprised of a few daily mine runs working the loaders on the upper and lower decks and bringing the coal back to Cane Fork.   From there, the loads would be blocked and coal trains dispatched to the mainline at Cabin Creek Jct. and the small yard at Chelyan (visible staging).  Empties could be visibly staged at Chelyan so that a train delivering loads could pick up empties for Cane Fork.  This layout could probably keep 1-3 operators entertained for an operating session of 2-3 hours.
Things I Like About this Plan:
Operational and scenic elements are very spread out
Wide aisles
Visible staging allows easy operation in and out of the staging yard during an operating session
Things I Don't Like About this Plan:
Cane Fork is compressed from end-to-end
Track going through backdrops is not well hidden
Kayford is oversimplified
Related Products:
Type:
Auction
Bids:
0
Ends in:
6d 0h 27m