Size: 20′ x 22′
Scale: HO
Minimum Radius: 30″
Minimum Aisle Width: 24″
Designed by Dan Bourque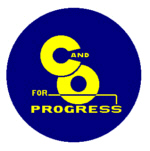 This layout is designed to fit into roughly half of a standard two-car garage.  It oozes over the centerline a little, but you may still be able to squeeze your wife's Volkswagon into her half 😉
The Layout
Let me start by saying I have never been to Quinnimont, and I have never seen track diagrams of Quinnimont.  This plan is based on a few pictures and topo maps of the area.  Quinnimont was an important spot on the C&O's New River line in West Virginia.  It was where coal from the Piney Creek Branch (in and around Beckley, WV) and the Laurel Creek Branch was held awaiting shipment to the east.  This layout encompasses the mainline through Prince (an important junction and passenger stop) and Quinnimont, the Laurel Creek Branch, and the Junction for the Piney Creek Branch.
Quinnimont is the star, so it occupies the main upper deck. The Laurel Creek Sub is on the lower deck under staging, though it would be easy to build this as a one-deck plan with the Laurel Creek Sub tied into staging. The Piney Creek Sub was the source of a lot of coal, and it's represented by several staging tracks. If you have the entire garage to work with, more of the Piney Creek Sub could be modeled. The double-ended nature of the staging yard for the C&O main allows for the recycling of loaded and empty trains during an operating session.
This is a medium-sized layout with the potential for many trains. Because of the number of locomotive addresses needed, a mid-sized DCC system with a good-sized booster would be needed to run everything.
Upper Deck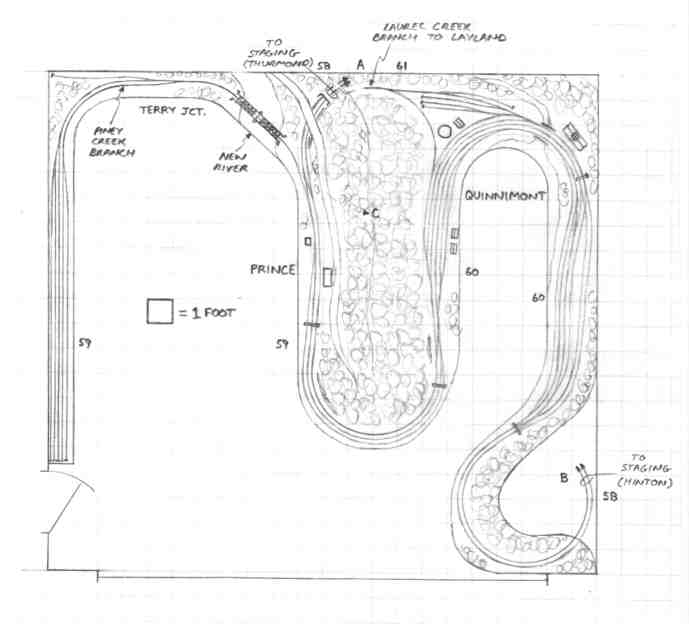 Lower and Middle Decks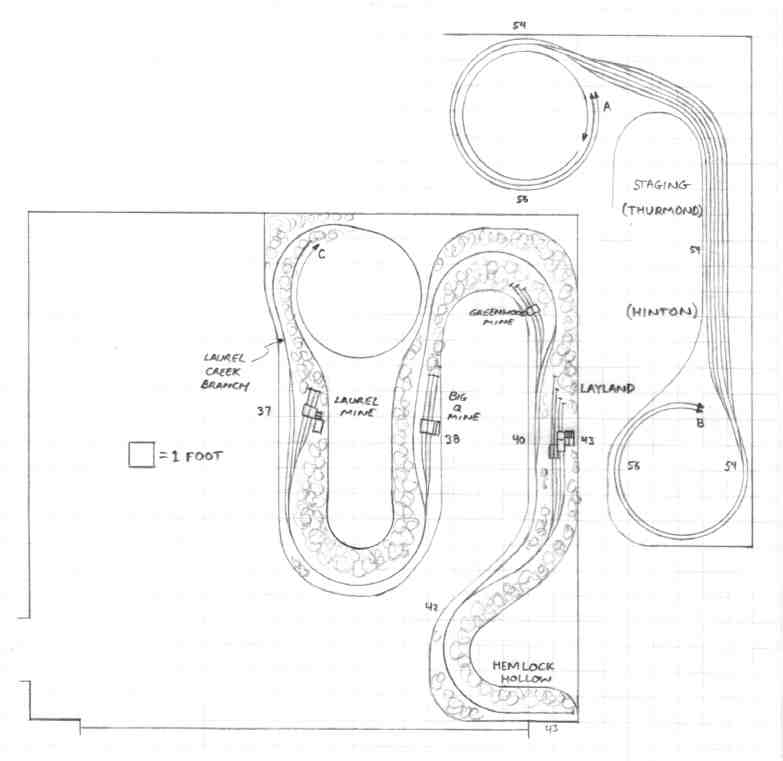 Operations
Operations on this layout would be fairly simple, but would entail a lot of mainline traffic.  Trains would be staged at Raleigh (a yard near Beckley), and would one-by-one cross the New River to bring coal to Quinnimont.  Likewise, the Laurel Creek mine run would be assembled in Quinnimont, run through the helix, work the lower deck, and return to Quinnimont with loads.  The loads would be moved east by attaching them to coal drags coming out of Thurmond (staging) with tonnage to spare or by generating new trains from Quinnimont.  Likewise, empties would be dropped off either in whole trains or a few at a time by passing empty trains.  C&O, and later AMTRAK, trains would be visitors at Prince, and a decent amount of merchandise freight would also pass through on the main.
By making the staging a continuous loop, a coal drag and empty train could be set in motion in opposite directions while a single operator worked the yard or the Laurel Creek Branch.  Additionally, two or three coal drags could simulate an entire day's worth of traffic coming down the line from the busy yard at Thurmond.
Things I Like About this Plan:
Potential for lots of trains
Continuous running via staging
Captures some quintessential C&O scenes on the New River main
Good mix of mainline, switching and mine run operations
Things I Don't Like About this Plan:
Staging sandwiched between decks
Visible staging for Piney Creek Sub too close to modeled area
Narrow choke point on aisle
Related Products: