Size: 10′ x 16′
Scale: HO
Minimum Radius: 24″
Minimum Aisle Width: 24″
Designed by Dan Bourque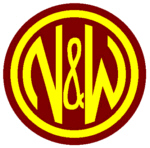 The Norfolk & Western had coal branches all across southern West Virginia. The North Fork Branch stemmed from the busy Bluefield-Williamson mainline of the Pocahontas Division. Like most branches, the North Fork was filled with loaders and a variety of track arrangements to serve them. This is what makes branch line modeling so great for those who love switching. This line was active into the NS era, though I am not sure which loaders remained active.
The Layout
This layout is designed to fit into a medium-sized bedroom and accomodate 1-2 operators in walk-around style operations. I captures all the coal loading points on the branch (at least the tracks indicated in 1984 track charts), and while the number of tracks have been reduced at some loaders, the track arrangements are reasonably close to the prototype. The layout has staging for three mine runs, though 1 or 2 mine runs are more than adequate to work the line. The angles of the layout lend themselves nicely to simple open grid benchwork, though any style of benchwork would work as long as there is enough clearance for staging. Even without a helix, the 2% grade from Algoma to staging allows 13″ between track levels for staging and the main level. The layout is small enough that an entry-level DCC system (Digitrax Zephyr, MRC Prodigy, NCE PowerCab, etc.) would be more than adequate, though walk around throttles are a must.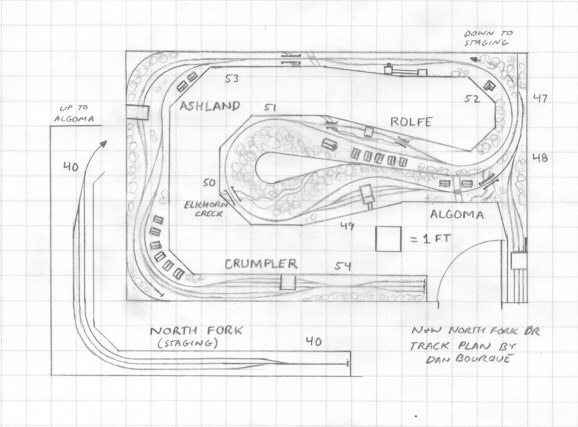 Operations
This layout is ideal for 1 or 2 operators. With 2 operators, one would be the engineer (works the throttle and switching movements at the head end) and the other the conductor (keeps track of what cars go where, directs switching movements and throws switches for the tail end). 1 or 2 mine runs would be needed daily to work all the tipples–2 if the tracks at the mines are used to capacity. The mine run would work up the line dropping emties and picking up loads on the return trip, just as in the Mine Run Operations article. The exception is the stub-ended, facing point operation near Algoma (the one behind the door). To work this one, crews would have to drag the empties all the way up the branch, run around them at Crumpler and trade the empties for loads on the return trip. Any way you sort it, there are a lot of moves required to serve all the loaders, and a crew is likely to need a real-time hour to perform all the switching. To add variety to operations, covered hoppers (ammonium nitrate to make blasting powder for the mines), or the occasional boxcar or flatcar could be spotted on an open track near the larger tipples–this would require additional moves to drop the cars or work around cars already spotted.
Things I Like About this Plan:
Lots of switching for the size
Adequate staging
Potential for multiple-era operations
Things I Don't Like About this Plan:
Narrow aisles
Tight minimum radius
Limited variety
Related Products: