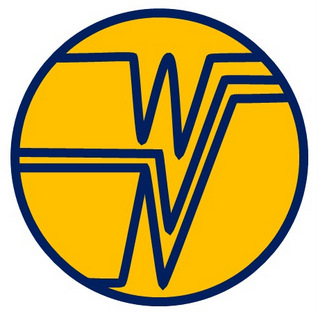 Track Plans
Photos

Models

(no models at this time)
History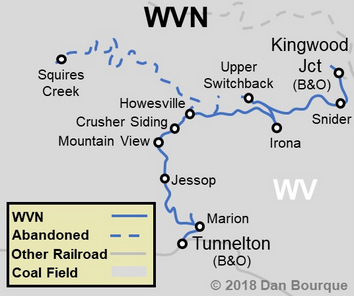 The West Virginia Northern was an 11-mile long, coal-hauling short line that ran from Tunnelton to Kingwood, WV. It began operations in Kingwood in 1887 as the narrow-gauge Kingwood Railway Company. After being renamed the Tunnelton, Kingwood & Fairchance, the track was brought up to standard gauge in 1894, and the railroad was renamed the West Virginia Northern in 1899. While the WVN had a connection with the B&O's M&K sub, it continued to build southward until it met up with the B&O's mainline at Tunnelton, WV where a better interchange was established. The railroad used a switchback to climb from Kingwood to the summit near Howesville, a feature that lasted until the end of operations.
More than a dozen coal tipples, mostly small affairs, sprung up all along the WVN main. The WVN, with its steep grades and tight curves, served its customers with small 2-8-0s until it dieselized with EMD switcher models including the NW2 and SW1200. One major extension was built between Howesville and Squires Creek in the 1950s, but it was later abandoned. One-by-one, the coal operations were shut down until the railroad finally shut down operations in 1991.
In 1994, a group of enthusiasts under the name of Kingwood Northern, Inc. reopened the railroad and ran it as a tourist operation for a few years. While it was a popular attraction, debt forced the railroad to close once more several years later, and the rails were finally pulled up in 2002.
Coal Lines and Operations
The WVN's locomotives were kept at the small shop at Kingwood Jct. From there, they worked the tipples along the line, collecting loads and shuttling them to Tunnelton. At Tunnelton, the WVN utilized a small interchange yard built alongside the B&O main, across from the classic Tunnelton depot, to drop loads and pick up empties. Steep grades and tight curves meant short trains, and in the diesel era, all three of the WVN's switchers could regularly be seen on the head end of a single short coal train.
Tourist operations usually consisted of two coaches pulled by the WVN's two remaining switchers, 50 and 52. Trains ran between Tunnelton and Kingwood including a trip through the switchbacks.
Related Products:
Sources: