By Aubrey Wiley

Review by Dan Bourque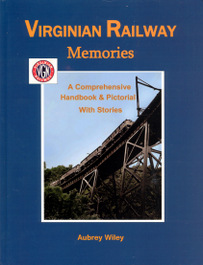 Virginian Railway Memories by Aubrey Wiley is unlike any other railroad book I've ever read. It took me a while to put my finger on why it's so unique, but I finally figured out what it reminded me of–my grandfather's scrapbooks. My grandfather worked for NASA for 30 years, and he kept amazing scrapbooks with information you couldn't find anywhere else. The author of Virginian Railway Memories grew up alongside the Virginian, and for a while, he had the run of the railroad as a young photographer. The personal relationship he had with the railroad and its people shows through and gives the reader a rare look beyond the typical histories and photographs.
This is not a history book, rather it is a collection, and therein lies its great value. Within the pages are personal stories, photos, track charts, train manifests and diagrams. The stories give the reader a real feel of what life working for the Virginian and around the Virginian was like, and some made me laugh out loud. It covers the entire railroad, but the tidewater area is probably covered best. There are chapters on locomotives, industries, trains, freight cars, passenger operations, coal tipples and structures. The chapter on industries includes a six-page list of every shipper on the railroad by town along with five pages with dozens of photos of many of the industries. The chapter on trains includes a car-by-car manifest of 9 different trains from the late '40s and early '50s. The chapters on locomotives, cars, passenger operations and structures all include numerous scale and semi-scale diagrams with dimensions including station layouts and elevations, hopper and locomotive diagrams and passenger car diagrams. These things alone might take a modeler or railfan decades to collect, and here they're all put into one book. If you're looking primarily for beautiful photos of the Virginian, this is probably not the book for you. There are hundreds of photos (including many really great photos), but many of lesser photographic quality were included because they help illustrate a story or capture an aspect of the railroad not often seen or photographed, and for this I am glad because it's these rarely seen details we model railroaders and railfans crave but rarely find. The photo captions are comprehensive and give a good deal of background information. Despite the occasional typo and misprint, the text is clear and packed with information.
Because it covers so many aspects of the railroad with hard-to-find information, Virginian Railway Memories is a "must have" for any Virginian modeler. There are already excellent books about the Virginian that share photos of its most iconic places and cover its history, but even if you have every other book, this one offers insight not found anywhere else and easily secures its own valuable niche in capturing the Virginian.
Subject:
All things Virginian, including many hard-to-find pieces of "insider information" on how the railroad ran
Primary Era:
1900s-1950s (primarily '40s and '50s)
Facts:
Pages: 233, Cover: hardcover, Photos: 425+ b&w photos, 38 color photos, 90+ maps, diagrams and drawings

Photos:
Many not the highest quality, but very thorough in covering lesser photographed subjects
Text:
Good text and informative, many first- and second-hand stories of life on the railroad
Maps and Diagrams:
Full of dimensioned diagrams and a few detailed track schematics
Value for the Modeler:
So many things a modeler wants to know but rarely finds in a book!
Purchase Value:
Great value considering this book is self-published and limited run
Related Products:
For more information about the book, visit the Virginian Railway Memories website. To contact the author regarding ordering information, click here.
Disclosure: I received a free copy of this book from the author specifically for the purpose of a review.