Size: 28′ x 30′
Scale: HO
Minimum Radius: 30″ (avg. 36″)
Minimum Aisle Width: 30″
Designed by Dan Bourque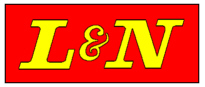 Many railroads tangled in the Appalachians, but few areas featured as many railroads coming together as southwestern Virginia where the L&N, N&W, Interstate, Southern and Clinchfield all interchanged within a few miles.
The Layout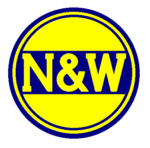 This was one of the track plans designed for Stu Thayer's basement before he moved. It downplays the coal branches but captures most of the interactions and interchanges between the five railroads dominating the Western Virginia coal-hauling scene:  the L&N, N&W, Clinchfield, Interstate, and Southern. The top deck includes the Southern, Interstate, L&N, and N&W, while the lower deck focuses on the N&W, Interstate, and Clinchfield. Books could be written about all of the interchanges, but here's the basic list.
Appalachia, VA

L&N and Southern
L&N and Interstate
Southern and Interstate (prior to 1965)

Dorchester Jct., VA    

L&N and Interstate

Norton, VA

L&N and N&W
N&W and Interstate
L&N and Interstate

St. Paul (Castle), VA

L&N and Clinchfield (after 1973)

St. Paul (Boody), VA

N&W and Clinchfield

Miller Yard, VA

Clinchfield and Interstate
Upper Deck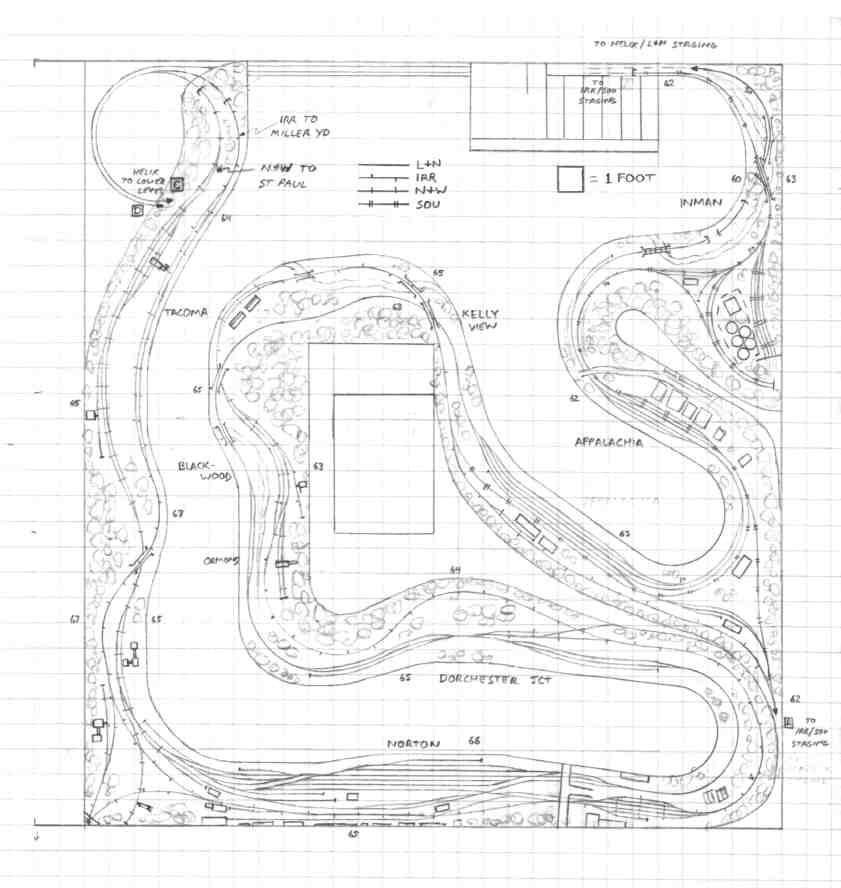 Lower Deck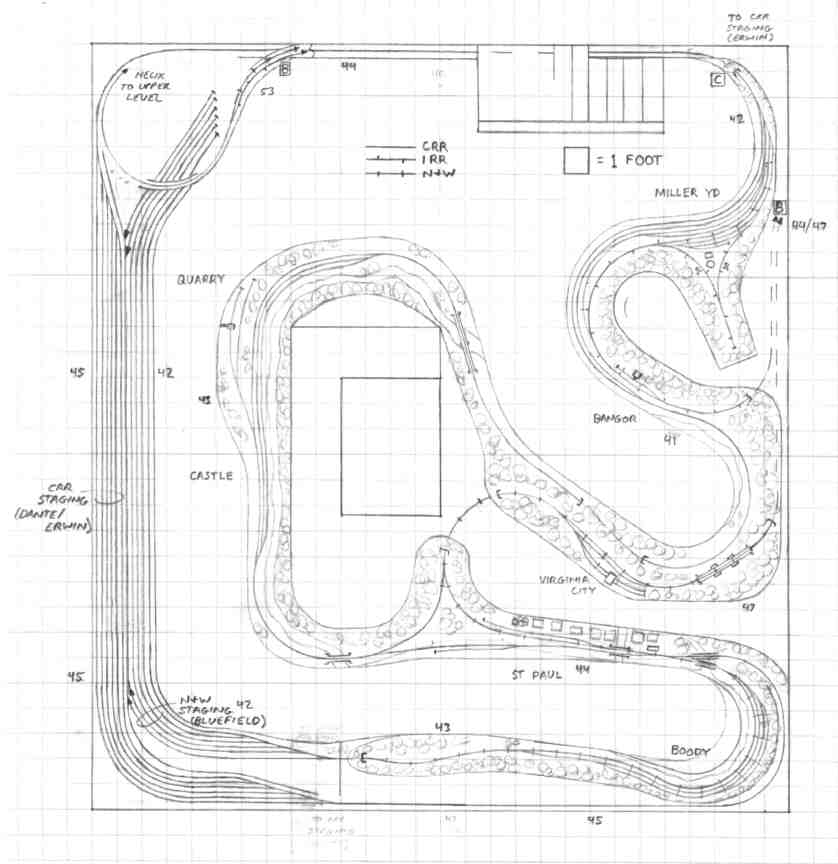 Operations

The neat thing about this layout is that significant changes to operations occur throughout history without significant changes to trackage. Prior to 1960, the Interstate was its own entity and made its living by collecting per diem on its hopper fleet while making sure foreign-road hoppers were off its lines by midnight to avoid any per-diem charges. The Interstate's main yard (Andover) is represented by staging, and its main coal-bearing branches are not modeled. After 1965, the Southern, which had purchased the Interstate in 1960, moved its operations from Inman to Andover, and the interchange between the SOU and IRR no longer existed.  However, Westmoreland Coal soon built a huge transloader on the Southern's old yard (served by an ex-Southern Alco switcher) which became the destination for a good portion of the coal coming off the Interstate.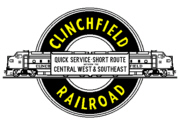 Prior to 1973, the L&N ventured no further east than Norton. Most of the L&N's coal was interchanged to the Interstate at Dorchester Jct. where it was forwarded on to the Clinchfield at Miller Yard. After 1973, the L&N got trackage rights over the N&W to St Paul and the small yard at Castle was used for interchange between the two roads. This arrangement lasted until 1986 when NS and CSX worked out a trackage rights agreement that allowed CSX trains down the Southern from Big Stone Gap (near Appalachia) and NS trains down the old Clinchfield from St. Paul.
By building equipment for three eras, pre 1965, 1965-1973, 1973-1986, and post-1986, your operating sessions could be widely varied, making this a very interesting area to model.
Things I Like About this Plan:
5 operational railroads!
Tons of operations
Easy to change operations with eras
Things I Don't Like About this Plan:
No central "theme"
Compromises with all 5 railroads
Very compressed in areas (e.g. Norton yard very small, Appalachia interchange tracks very short)
Related Products:
Type:
Auction
Bids:
0
Ends in:
6d 0h 27m