Size: 8′ x 12′
Scale: HO
Minimum Radius: 22″
Minimum Aisle Width: 48″
Designed by Dan Bourque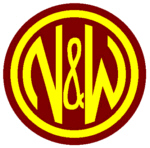 The N&W's Pocahontas Division was full of small branch lines serving numerous coal tipples. The Pond Creek Branch was one of the smaller of these branches and makes a great subject for a bedroom-sized layout.
The Layout
This layout is designed for the beginner aiming to get a start in prototype modeling.   The basic design is nothing more than two 4×8′ sheets of plywood, so a small radius of 22″ was used.  The area represented is part of the N&W's Pond Creek Branch which originates in Williamson, WV.  The area around Belfry had two small spurs leading to loaders, both of which are represented here in compressed form.
I have added a team track in the "wye" leading to Hardy to add some variety in operations and traffic, and the two-track staging area allows for continuous running to satisfy that kid in all of us that wants to see the trains going roud-and-round.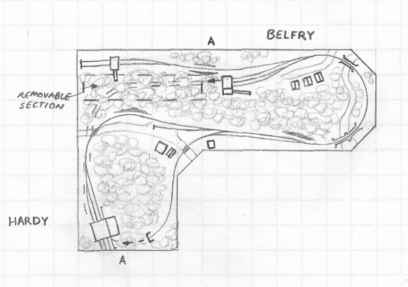 Operations
This simple trackplan provides ample opportunities for mine run operations and a chance for first-timers to build a lot of mountain scenery.  The tunnel (the origin of mine runs on this layout) is prototypical, and the other end of staging is hidden underneath a loader.  Lift off scenery should be built on top of the staging area for easy access in the event of accidents.
Things I Like About this Plan:
Very small and compact but interesting operations
Allows for unmodified commercial track products (easier for beginners)
Things I Don't Like About this Plan:
Tight radius curves
Very compressed (prototype area is about 1 1/2 miles of track)
Related Products: