Size: 11′ x 17′
Scale: HO
Minimum Radius: 30″
Minimum Aisle Width: 27″
Designed by Dan Bourque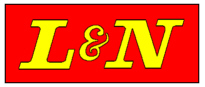 Lynch, KY lay at the end of the L&N's Poor Fork Branch east of Loyall, KY on the Cumberland Valley Division. The large loader at Lynch was owned by US Steel and loaded the "steel train" that ran between Lynch and Corbin, KY. Near Lynch were other loaders and few industries around Cumberland, KY.
The Layout
This bedroom-sized layout represents the end of the L&N's Poor Fork Branch to Lynch, KY.  It is purposefully designed use narrow shelves to keep most of the interior of the room usable as a bedroom or study (albeit with limited closet space). With its small size and limited number of simultaneous trains being run, an entry- to mid-sized DCC system with walk-around throttles would work well.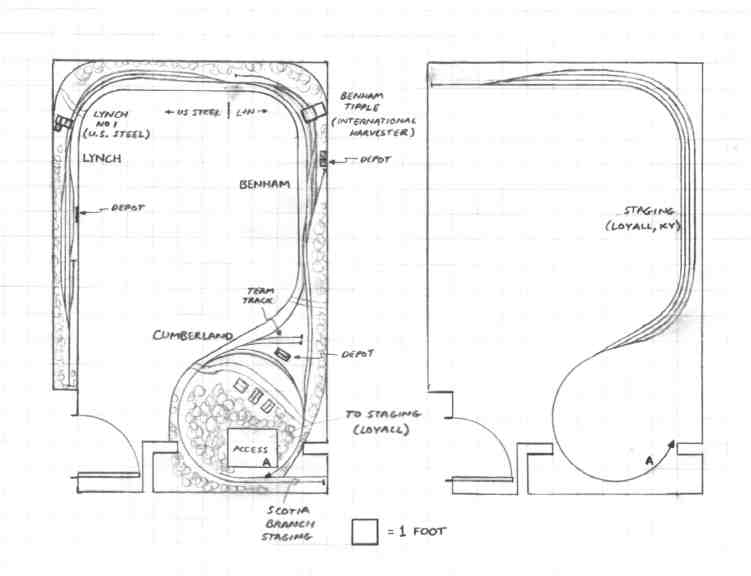 Operations
Despite the limited scope and "end of branch" focus, operations would still consist of three to four trains daily.  The Poor Fork mine run would work the tracks at Cumberland (many industries used the team tracks) and the International Harvester tipple at Benham.  International Harvester actually owned their own Alco switcher for many years to shift the cars around.  The Poor Fork mine run would also work any non-coal traffic bound for the depot at Lynch.  A second mine run (a roustabout out of Loyall) might venture up this way as well if traffic was heavy.   A short staging track for the Scotia branch, which served one large tipple, is provided, but probably not too useful.
The meat of the operations on this layout, though, is the U.S. Steel mine at Lynch.   This tipple was served by twice-daily trains out of Corbin, KY, where U.S. Steel had a large prep plant.  Typical power on the Lynch Turns was a trio of 6-axle Alcos.   During the early 70s, the L&N and Penn Central had an agreement which saw PC power (and cabooses) run all the way to Lynch.  Typical PC power was SD40s and SD45s.   When the Lynch turns arrived at Lynch, they cut their train and set it on the tracks above the tipple.  They would then take the sitting loads on the other side of the tipple, put them together, and take off for Corbin.  Switching at the tipple (whose tracks were owned by U.S. Steel) was handled by a small blue GE 70-tonner and brake sled (later an Alco S2).  These operations would be perfect to keep one or two operators busy for a couple of hours. For more information on the Lynch operations, see Ron Flanary's excellent books, L&N in the Appalachians and L&N Cumberland Valley Division Album, both available from Old Line Graphics.
Things I Like About this Plan:
Lynch modeled well
Big trains in a bedroom-sized space
Plenty of switching
Variety in motive power (L&N, PC, US Steel, International Harvester)
Things I Don't Like About this Plan:
Scotia staging way too short to be useful
Related Products: