Size: 20′ x 22′
Scale: O
Minimum Mainline Radius: 48″
Minimum Aisle Width: 36″
Designed by Dan Bourque

The K&T was a compact little road that ran short trains to a handful of loaders. As such it makes a great subject for a layout of modest proportions or a layout of a larger scale.
The Layout
This layout, my first attempt at an O scale layout, captures the key elements of the K&T in the 1950s when coal trains were still going as far as Oz to serve the handful of remaining coal loaders using Southern hoppers and a small fleet of aging steam engines. The idea with this design was to capture some key scenes and compress them into a more modest layout. The key scenes I decided to include were the shop and interchange tracks at Stearns, the loader at Blue Heron (this prototype is now restored as a museum), the bridge at Yamacraw and Oz.
Compression is the name of the game on this layout, but it is still capable of hosting operatations similar to the prototype. The space between scenes is severely compressed, and the classic concrete arch bridge at Yamacraw is reduced from five spans to three. I added the loader at Worley, though I wasn't able to keep its contemporary at Yamacraw. For both Blue Heron and Oz, only the load tracks are represented. Stearns is also severely compressed and stubbed, but there are enough tracks to handle the interchange and locomotives.
This plan also takes advantage of the 3+ percent grade from Stearns down to the Cumberland River to essentially gain a partial second deck without a helix. Operations would be simple, so any walkaround throttle system would work well to power the layout. This design could also be easily adapted to a bedroom-sized HO or N scale layout.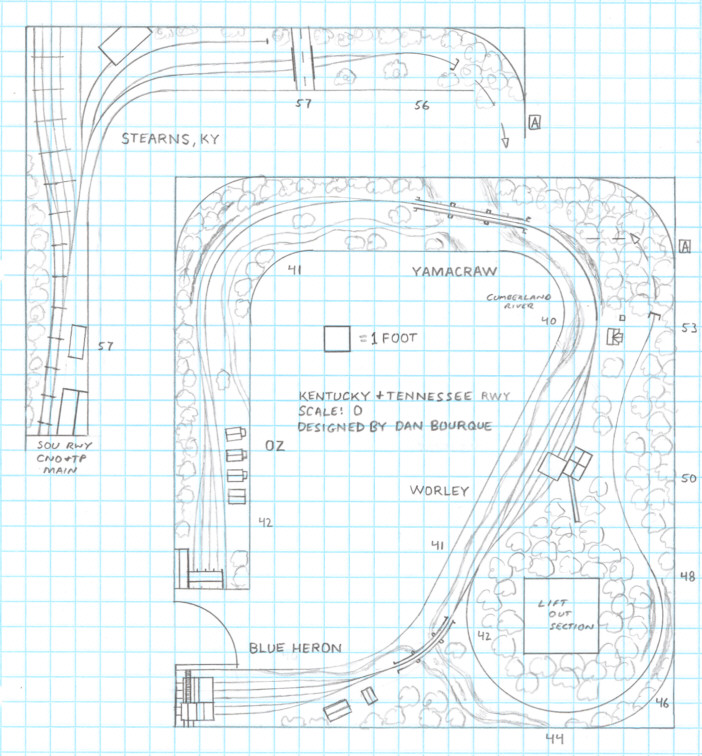 Operations
I am not an expert on K&T opeations, but I imagine operations went something like this. Pick up a locomotive (probably a 2-8-2) in Stearns and pull a string of empty hoppers from the Southern interchange tracks (don't bother with a caboose, the K&T didn't use them). Take the hoppers down the grade and switch them into the tipples, trading them for loads. Because of the steep grade against the loads, they would need to be taken up to Stearns a handful at a time, making for more operation between the decks than is apparent at first glance. Finally, the loads would be handed off to the Southern in the interchange tracks at Stearns. For variety, or if two operators are working, two separate mine runs could be dispatched to work the various loaders. There are certainly enough run-around moves and stub tracks to keep the operators busy for quite a while.
Things I Like About this Plan:
Captures key elements of the prototype
Space efficiencies of double-deck without a helix
No need for staging
Things I Don't Like About this Plan:
Very compressed
Stub tracks instead of double ended
Related Products: