Size: 8′ x 20′
Scale: HO
Minimum Radius: 18″
Minimum Aisle Width: 40″
Designed by Dan Bourque

This beginner's track plan is designed for one half of a long garage, and it's designed to use commercial switches and flextrack laid on cookie-cutter sheets of plywood. The subject is the Interstate Railroad's Dixiana and Glamorgan Branches north of Norton, VA.
Track Plan
I designed this plan with enough of the prototype's tipples and associated switching to keep a couple of operators occupied for a while.   However, because most beginners (and most non-beginners on occasion) sometimes just like to see trains run around, the tail of the wye at Glamorgan and the Critical Fork branch connect to form a continuous running loop–a big bonus, in my opinion. Because only one, perhaps two, trains would run on the layout at once, a DC system or beginner DCC system like a Digitrax Zephyr with walk-around throttles would work well for control.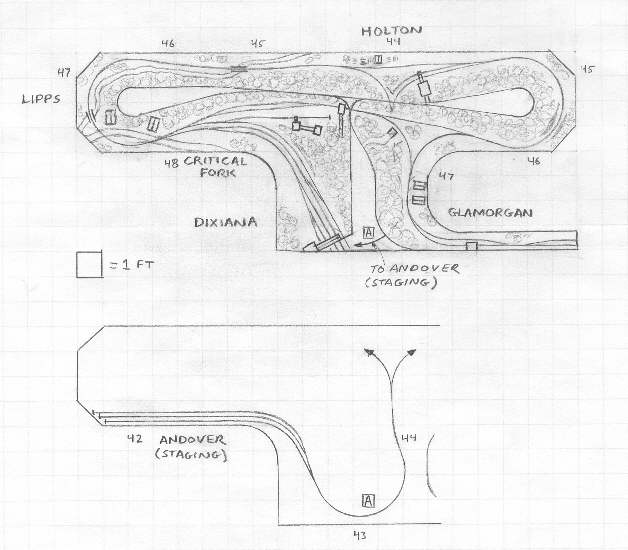 Operations
Operations would consist of mine runs entering from staging with empty hoppers. In the Interstate and Southern eras, this area was served by up to two mine runs per day. The crew would need to work around loads to spot empties, then gather loads and head back to staging. Sounds simple, but with the limited number of run-arounds and limited track space (not all empty tracks are modeled), it would require a lot of switching moves and probably at least an hour to work all the tipples. Not bad for a beginner plan.
Things I Like About this Plan:
Captures much of the operation of the prototype
Continuous running loop
Plenty of switching for an extended 4×8′
Things I Don't Like About this Plan:
Tight curves (18″)
Hidden staging (could move out to run along wall)
Related Products: