by Harry Sandlin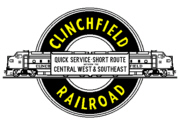 The CRR used pushers and double-headed trains in the post war steam era as train tonnage increased. However, evidence of steam era pushers does not seem nearly as easy to find as in the diesel era. When Steam Ran the Clinchfield by James Goforth has several photos of double-headed trains, including merchandise trains. In Goforth's book, the most dramatic evidence of pusher service is a photograph on page 100 of a southbound coal train with L-1 Mallet No.706 as pusher. The train had stopped to take on water at Boone, TN early in the afternoon of June 1, 1947. Class E-1 4-6-6-4 No. 656 shoved from the rear. The caboose on the rear of the 706 is hardly distinguishable in the photograph!
In 1947, the CRR carried 7,899,492 tons of coal. The average distance hauled per ton (miles) was 156.89. Total coal freight revenue for 1947 was $8,853,101.00. By contrast, 4,386,498 tons of merchandise were carried by the CRR in 1947 with an average distance hauled per ton (miles) of 149.72. Total merchandise freight revenue was $8,562,020.89. 1947 was the first year since 1943 than coal revenue had exceeded merchandise revenue.
The route south from the coal fields climbed from an elevation of 795 feet at M.P.1 in Elkhorn, KY to 2,628 feet at M.P. 187 at Altapass. High tonnage coal trains were often double-headed and pushers were employed, as evidenced by the following taken from Clinchfield Railroad Employee, Time Table # 26, effective 12:01 A.M., Sunday, July 20,1947. (Last of the pure steam tables.)
"Mikado type engines assisting time freight trains between Avery and Spartanburg, do not exceed speed of 35 miles per hour. . . Pusher engines for coal trains will go to north end of yard (Kingsport) to get on trains and will get water at the north end. . .instead of the south end. . . . Coal trains: . . . (B)southbound, . . . make running test at Altapass. . . pull down between switches at Ridge; . . . pushers and caboose will continue on train until this stop is made and then drop caboose by (sic) at the north end of Ridge. Pushers must know that the caboose is properly coupled before leaving for Erwin. . . (H) air must be coupled through pusher engines Elkhorn Yard to Dante, Kingsport to Unicoi, Erwin to Altapass and Erwin to Unicoi. . . Time Freight: (J) Pusher engines on 92 and 94 will cut out at north end of Ridge, except that when the pusher is a mallet and it is necessary to turn up retainers. In that case, pusher will cut out at South end of Ridge. When 92 or 94 picks up at Altapass and one engine can start the train from there, cut out the pusher at Altapass."
The Trains: No. 92 (coast line route) and 94 were time freights. No. 92 was the southbound counterpart of famous northbound 97, Florida Perishable, first class! No. 92 was scheduled in 1947 to depart Erwin at 3:40 am and Ridge at 5:46 am. No. 94 departing Irwin at 3:00 PM and Ridge at 5:09. Altapass and Ridge : The 1947 time table lists timed stations and stations and sidings at which no time is shown. The timed stations show "Station Sidings, Capacity in Feet," and "Passing Sidings, Capacity In Feet."
Altapass: station siding 4,290 feet, passing siding (blank)
Ridge: station siding 300 feet, passing siding 4656 feet.
Altapass at M.P. 187 and Ridge at M.P. 188 were separated by the Blue Ridge tunnel at mile post 187.28. Blue Ridge tunnel was 1,865 feet long, with 1 concrete portal on the north and 584 feet of concrete lining. North of Altapass was Vance tunnel at M.P. 186.65. Vance was 527 feet and had 2 concrete portals. Altapass also was the site of a turning wye used to turn pushers for their return trip to Erwin. The was the setting for the action during the steam era!
Related Products: