By Ed Wolfe
HEW Enterprises 2010

Review by Dan Bourque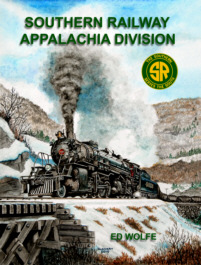 Many of us familiar with the fantastic book series on the Interstate Railroad written by Ed Wolfe and his father, Hugh Wolfe, have been waiting anxiously for Ed's book on the Southern Railway's Appalachia Division since it was first rumored a couple of years ago. To get to the bottom line quickly, this book is excellent and was well worth the wait, but it is a bit different from Ed's earlier works.
The Interstate books are unique because of the unprecedented first-hand knowledge presented by Hugh Wolfe and many others interviewed by Ed. They contain detailed, personal descriptions of the day-to-day operations of the Interstate as seen from the ground level. Ed's new book, Southern Railway Appalachia Division, doesn't ignore the day-to-day, but it focuses, rather, on the big story of railroading in southwestern Virginia. Just as the Interstate books make you appreciate the men and women of the railroad and how they conducted their business on any given day, Southern Railway Appalachia Division makes you appreciate the dreams, plans, struggles and triumphs of the visionaries, entrepreneurs and even a few crooks who spent their fortunes to build their railroads in the mineral-laden hills of southwestern Virginia.
Southern Railway Appalachia Division is, first and foremost, a history book, and the hundreds of sources listed in the bibliography testify that Ed has done his homework. Ed begins his interesting and well-written story of the division in 1830, long before a single rail had been laid anywhere near Virginia coal country, and over the next 200+ pages, he tells the story of the dozens of railroads which eventually shaped and became the Southern's Appalachia Division. This is more than just the history of the rails. Ed goes into great detail on charters, founders, financial and legal struggles, reorganizations, mergers, natural disasters, etc. The first 100 pages, for example, offers not only a thorough history of the early railroads and rail lines, but it also offers a fascinating insight into the business practices and politics of the late 1800s. My only critique is that dozens of towns and rail lines are referenced, but there is no overall map of the division with the town names to reference to put things into better perspective–I found my Steam Powered Video Railroad Atlas of North America – Appalachia and Piedmont to be a valuable companion while reading this book.
As you might expect, there are not many photos of the early years, but Ed has done a phenomenal job of uncovering meaningful historical photographs. Ed has also managed to fill the pages with other interesting artifacts such as timetables, newspaper headlines, topo maps depicting proposed and actual routes and more. Even better are the hundreds of brief "vignettes" dotting the pages which go into greater detail on a portion of the story. In these vignettes, you'll find biographies, stories of wrecks and natural disasters, reports, personal interviews and other great articles which do a splendid job of complementing and enriching the history.
In addition to the big-picture history, Ed covers many subjects in more detail that are of particular interest to modelers. For example, a good many pages are spent covering the evolution of the steam power used by the Virginia & Southwestern and later the Southern Railway to conquer the tough Appalachian grades. He goes through the transition from 2-8-0s and 2-8-2s to 2-6-8-2 and 2-8-8-2 Mallets and what they meant for operations (the first diesel doesn't show up until page 314). Later, he walks through the transition to diesels as well. There is also coverage of the Southern's early efforts at intermodal traffic and a lot of information on Natural Tunnel. Train schedules are well covered, as are the factors that drove operational changes throughout the decades. In addition to the numerous topos throughout the text, one appendix contains track charts of many key locations and tipples throughout the division.
I highly recommend this book not only to those interested in the Southern, but to anyone interested in railroad history or southwest Virginia. If you read this book, you will walk away with a much better appreciation for how railroads come to be and the surprising stories and events which shape their routes and operations. Thanks again to Ed Wolfe for giving us Appalachian modelers another well-written and valuable resource.
To order this book, contact Ed
Subject:
History of the Southern Railway's Appalachia Division from the 1800s to Norfolk Southern
Primary Era:
1850s – 1980s
Facts:
Pages: 416, Cover: hardcover, Photos: 380+ B&W photos, 75+ maps, 80+ timetables
Photos:
Many historical and hard-to-get photos
Text:
Well written history and interesting vignettes
Maps and Diagrams:
Many topos, some track diagrams, many timetables
Value for the Modeler:
Good source of photos and "big picture" railroad operations
Purchase Value:
Good price for a book of this magnitude
Related Products:

Disclosure: I received a free copy of this book from the author in exchange for providing an announcement and contact information on this site. However, the author did not request a review, and these opinions are my own.