by Tony Koester
Kalmbach Publishing, 2006
ISBN 0-89024-668-8

Review by Dan Bourque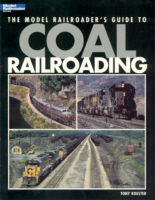 For many of us Appalachian modelers, the name Tony Koester and "coal railroading" are permanently wired together thanks to Tony's previous layout, the Allegheny Midland, which captured the look-and-feel of Appalachian railroading so beautifully. Consequently, it should come as no surprise that Tony has written an excellent book on the subject of coal railroads with the modeler in mind.
Like many of Kalbach's offerings under the banner of Model Railroader Books, The Model Railroader's Guide to Coal Railroading is compact (less than 100 pages) and packed with diagrams and color photos to accompany the text. This book starts with basic (but very useful) information on coal every coal modeler should know: where coal comes from, types of coal and where they're found, extraction methods, etc. There's a whole chapter on company towns, and then a chapter apiece on the main coal-producing regions in the US:  the central Appalachians, the anthracite fields, the Midwest and the West. The last chapters cover coal destinations, coal-hauling power and model operations.
The text is well-written, easy-to-understand and engaging, though there's surprisingly little of it–most of the text is photo captions. Every concept is well-supported by diagrams and photos of both the prototype and some well-done models, so the captions are enough convey the author's points well. While the book covers coal across the US, about 3/4 is focused on Appalachia and Appalachian railroads. One thing there is no shortage of is tipple photos–of the 112 photos, around 65 of them depict a tipple or loader. This book is worth the price simply for all the great shots of tipples!
This book is a good introduction to coal railroading and a great place for those modeling the coal fields to find inspiration. My only complaint is the book's brevity (I'd love to see 3x as much coal coverage), but its brevity also makes it a very easy book to pick up and read through often. I definitely recommend this book for any coal-field modeler!
Subject:
Brief but comprehensive guide to understanding coal and how its loaded and handled by railroads across the country
Primary Era:
1940s – 1990s with focus on the '50s – 70s
Facts:
Pages: 96, Cover: softcover, Photos: 200+ photos (mostly color), 10+ maps, charts and diagrams
Photos:
Loads of color photos which cover most aspects of the coal fields very well
Text:
Very brief but well written
Maps and Diagrams:
Diagrams and maps are limited, but they are helpful and nicely integrated
Value for the Modeler:
Excellent source of both prototype understanding and modeling inspiration
Purchase Value:
Very reasonably priced for the amount of ground covered. The tipple photos alone are worth the price
Related Products:
Type:
Auction
Bids:
0
Ends in:
1d 19h 50m