by Robert Helm
TLC Publishing 2004
ISBN 1-883089-84-0

by Dan Bourque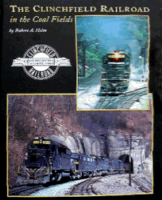 This book is an outstanding resource for anyone modeling Clinchfield coal-field operations, especially in the diesel era. The book's author, Bob Helm, is a model railroader, and it shows in the details he includes in this excellent volume. The book follows the Clinchfield mainline from Elkhorn City, KY to Dante, VA along with the Haysi RR, the Fremont Branch and the Nora Spur.
The narrative of the book is well written and captures many details of the operations a modeler would want to know. Accompanying the text is a wealth of photos (mostly color), maps and track charts. Most photos and accounts are from the 1970s and 80s, though there is a section on Dante Yard in the steam era.
Readers of this book will gain a great appreciation for how the Clinchfield operated this tough piece of railroad including helper operations, yard operations and mine runs to serve the dozens of tipples which poured black diamonds onto Clinchfield rails. This book is a "must have" for any Clinchfield buff and would be of interest to anyone who loves learning about how railroads conducted their day-to-day business in Appalachia.
When someone asks me "if I could only buy one book to help me model the coal fields better, what would it be?", my answer is Appalachian Coal Hauler!
Subject:
Operations on the north end of the Clinchfield
Primary Era:
1940s-1990s with focus on '70s and '80s
Facts:
Pages: 120, Cover: hardcover, Photos: ~150 photos (mostly color), ~30 maps, track charts, topos and diagrams
Photos:
Loaded with photos, some of tough-to-get-to loaders
Text:
Well-written text and captions, captures first-hand details of operations in the diesel era
Maps and Diagrams:
Detailed track charts for the entire mainline from Elkhorn City to Dante including branch lines
Value for the Modeler:
First-hand descriptions of operations and great diagrams and photos for modeling
Purchase Value:
Excellent value, every section packed with info and photos
Disclosure: I received a free copy of this book from the author in exchange for providing an announcement and contact information on this site. However, the author did not request a review, and these opinions are my own.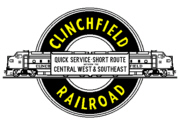 Related Products: