Size: 12′ x 20′
Scale: HO
Minimum Radius: 27″ (30″ mainline)
Minimum Aisle Width: 24″
Designed by Dan Bourque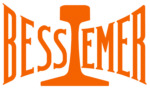 Branchton, PA was home to the Bessemer and Lake Erie's northern coal operations including the mainline from Filer, PA (north) to Butler, PA (south) and the adjacent 10-mile Hilliards Branch. Until 1958, the Hilliards Branch was a major supplier of limestone bound for Pittsburgh's steel mills, but after the limestone operations shut down, the branch continued to supply coal from a few modest operations into the 1990s. While the mine run base was moved to Butler in the early 1980s, Branchton continued to serve as an important point on the B&LE due to the local coal and limestone industries.
The Layout
This layout captures Branchton and the Hilliards Branch circa the early-1980s, but it could easily be adapted to other eras by varying the loader types and active locations. The lower level represents Branchton and the B&LE's mainline between Butler and Grove City, PA (part of the B&LE's busy mainline between Pittsburgh and the Great Lakes). During the modeled area, this section was double-tracked. Included are the small Branchton yard, the wye to the Hilliards Branch, the Mercer Lime and Stone plant, Magnum Minerals prep plant and a small loader at Harrisville. This loader was three miles from Branchton, but it's included to allow some of the mainline coal operations of this area. The next loader to the south was Malinski Mining, about 7 miles away–this loader could also be brought onto the layout above the helix down to Butler staging to add to operations.
The upper deck represents the end of the 10-mile long Hilliards Branch which was home to a handful of small loaders. A 1985 coal directory lists three loaders called Shamrock Minerals, Sunbeam Coal Corp, and Magnum Minerals. I've added a fourth loader at Atwells which is visible in a 1994 aerial photo for more operation. I don't have track charts for this area, so track arrangements are drawn from a combination of topo maps, aerial photos and a few ground-level photos. A four-loop helix is used to get trains between decks, and with a 27″ radius and 4″ vertical rise per loop, it equates to a manageable 2.4% grade.
Staging would be two side-by-side, double-ended yards straddling both mainlines with crossovers at each end. This allows for continuous running in both directions simultaneously and the recycling of trains during each ops session to simulate the busy main. Staging could be set at any height to allow for easy access, though it does mean two double-track helixes. Space should allow for 10 tracks which is plenty to simulate a busy main.
Open grid benchwork is recommended with large open areas in the middle of each of the three helixes to allow for access to all the hidden trackage, including the long hidden run behind Boyer on the upper deck. One of the compromises in this design is the narrow minimum aisle width, 24″ at its narrowest spot. On the positive side, this 24″ area is a very brief pinch point and opens up to a generous 42″ aisle at Branchton. DCC is recommended to simplify wiring and operations, though an intermediate to advanced system would be needed to power the tracks and ensure enough locomotive addresses for mainline operations. Walk-around throttles are a must, and wireless throttles would help crews from getting tangled with one another in the single aisle.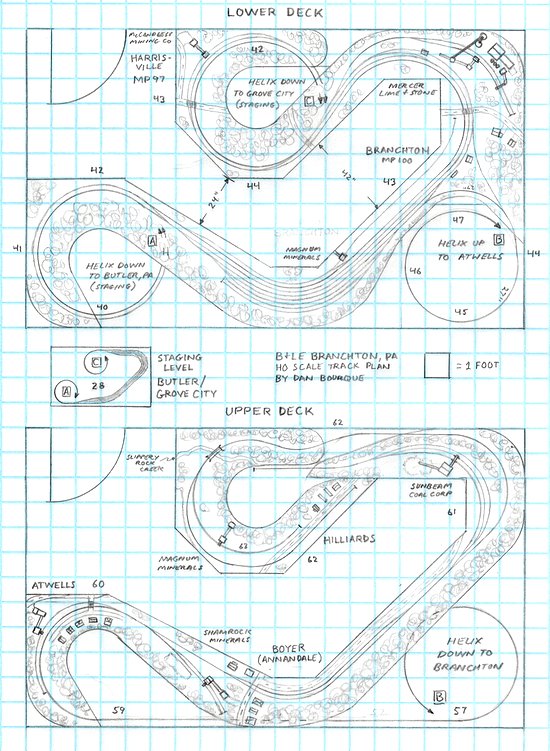 Operations
This layout is designed for 1-3 operators–any more and the limited aisle space gets crowded. There are two main "jobs" on the layout, the Branchton Mine Crew, and mainline crews. The yard would probably be mostly empty to start with perhaps a few cuts of empty hoppers and one or two short cuts of loads. A handful of loads would be staged at each loader with a long string of loads from Magnum Minerals alongside the main, and a handful of empty covered hoppers would line each of the tracks at the limestone plant. The first mainline crew might be a southbound from the Great Lakes (via Grove City) which would drop off a short string of hoppers in the yard on its way south to Butler. The Branchton Mine Crew would pick up their motive power and caboose on the wye at Branchton. Typical power might be a pair of SD9s, though a lone SD7 was used at times. The first order of business might be to work the two loaders along the mainline and get a few cuts of northbound coal loads ready to go in Branchton yard. The crew would have to work around mainline trains, and most mainline coal drags would stop in Branchton with Northbounds adding short cuts of loads and southbounds dropping off short cuts of empties. Likewise, at least one northbound freight would drop off loaded covered hoppers of limestone, and a southbound would pick up the empties and take them back to Butler.
Back in Branchton, the mine run would assemble its train of empties for the Hilliards Branch from hoppers in the yard. Once assembled, the mine run would proceed through the wye and up the helix. While the track arrangements for the four loaders are simple, the fact many of them are stub sidings with both facing and trailing point moves would make for quite a few switching moves and liberal use of the run-around at Boyer. With the empties set and loads in tow, the mine run would make its way back to Branchton where it would spend the rest of its time working Mercer Lime and Stone and the yard to line up cuts of cars for passing trains.
Besides the pick-ups and set-outs already mentioned above, the mainline crews could also run some other mainline trains including ore trains (loads south), mixed freights, and additional run-through coal drags (recycled from earlier trains). For variety, and occasional meet could be staged in Branchton to allow a higher priority train to get ahead of a slower train moving in the same direction. If the layout is being operated by a single operator, trains could be set in motion, one in either direction, and left to run continuously.
For additional variety, you could operate a mid-1980s or 1990s session with mine crews coming from Butler to work both Branchton and the Hilliards Branch, and you could model high and low seasons with different motive power and some of the loaders idled. As you can see, this layout has a lot going for it between switching operations and locals, coal, and a busy mainline that can be operated prototypically or just set up to run trains in circles.
Things I Like About this Plan:
Continuous running for two trains at a time
Captures key operational elements of a branch line and small yard
Good mix of mainline and branch line operations
Reasonable compression that doesn't sacrifice prototypical switching
Things I Don't Like About this Plan:
Three helixes
Narrow pinch point in the aisle
Short visible mainline run
Related Products: