Size: 11′ x 18′
Scale: HO
Minimum Radius: 27″
Minimum Aisle Width: 30″
Designed by Dan Bourque

The White Oak Branch originally started as the White Oak Railway which served the mines at Lochgelly and Summerlee.  The White Oak interchanged with the C&O at Carlisle, WV, and the Virginian at Oak Hill Jct., WV.  The White Oak was sold to both the Virginian and C&O in 1917.  Even though it was sold to both railroads, in reality the C&O would interchange cars at Carlisle, and the Virginian (later the N&W) would move them to the mines.
The Layout
This bedroom-sized layout represents the Virginian's White Oak Branch in West Virginia. It is considerably compressed, but all of the major features of the branch are included. I entered this design into a track-planning contest a few years ago, hence the colorful version of the plan shown below.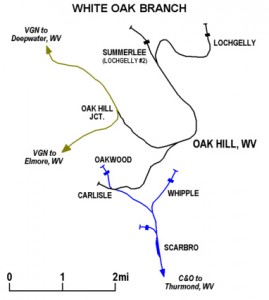 This layout captures the key elements of the White Oak Branch including the interchange with the C&O, Carlisle, Oak Hill, the large prep plant at Summerlee, and Lochgelly. All the switches, sidings and tipples are there to operate this layout very close to the prototype. The C&O enters the layout from two staging tracks behind a low backdrop to add fresh cars mid-ops session. The track to the Virginian interchange at Oak Hill Jct. runs off the front of the layout, but there is enough track to hold a respectable number of cars. An entry-level DCC system such as the Digitrax Zephyr with a walk-around throttle would work well for this layout.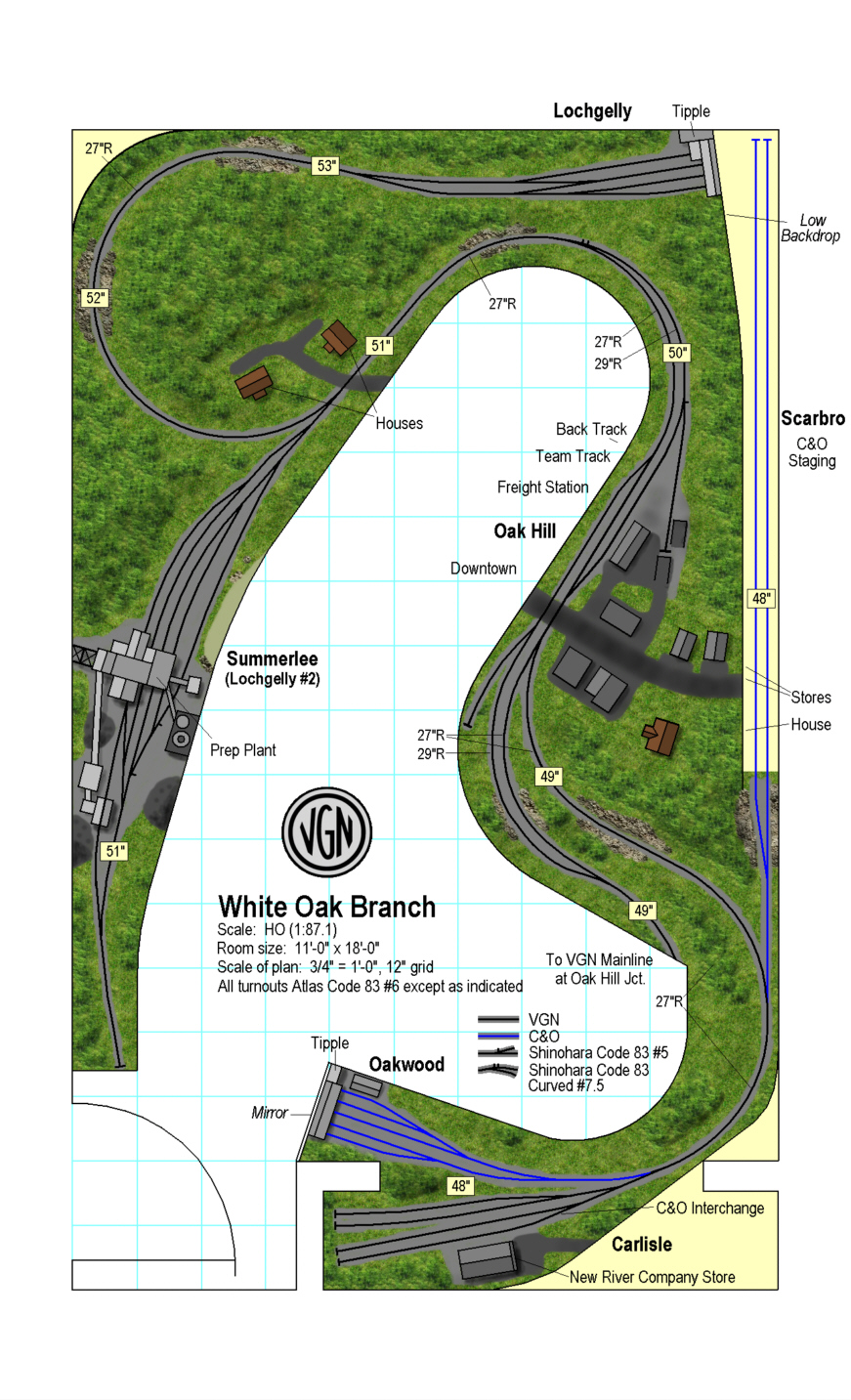 Operations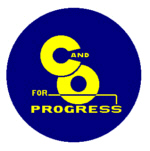 This layout could keep 1-2 operators busy for a couple hours. The Virginian (and N&W) ran the White Oak like an independent railroad all the way into the 1970s.  In the diesel era, a Trainmaster (later an SD9) was kept at Oak Hill to serve as the branch's exclusive switcher.  The switcher would pick up empties from the Virginian mainline at Oak Hill Jct., but most of the traffic came in the form of C&O loads bound for the Summerlee coal prep plant (a destination for both loads and empties).   Because of the switchbacks and shortage of run-around tracks, the switcher had to make a lot of pushing moves to get its work done.  The C&O crew would run from staging into Carlisle to drop-off both empties and loads and to work the mine at Oakwood.
Things I Like About this Plan:
Models an entire independent branch with its own engine in a small space
Operations can be run fairly faithful to the prototype
Loads-in/loads-out for Summerlee means hoppers don't have to be "loaded" to be ready
Scene at Summerlee modeled well
Things I Don't Like About this Plan:
No empty tracks for Lochgelly or Oakwood
Little run between scenes
No staging for Virginian
Related Products: