Size: 12′ x 14′
Scale: HO
Minimum Radius: 30″
Minimum Aisle Width: 27″
Designed by Dan Bourque

The Virginian's Stone Coal Branch near Mullens, WV served many loaders for both the Virginian and the C&O. This branch was worked by mine runs out of the Virginian's large yard at Elmore. Typical power during both the VGN and early N&W eras was one or two Fairbanks-Morse Trainmasters. Stone Coal Junction was an active interchange point with the with the Chesapeake and Ohio. Although the C&O had trackage rights over the Stone Coal Branch, they opted to interchange hoppers bound for Stone Coal Branch loaders with the Virginian. The C&O would drop off empties at the junction where the Virginian would take them, set them out at the appropriate loader and return C&O loads to the junction. This agreement still exists today with the NS and CSX.
The Layout
This bedroom-sized layout represents the Virginian's Stone Coal Branch, just north of Elmore, WV as it appeared from the 1940s to the 1970s. It includes a small copy of Stone Coal Jct. to be used for visible staging of C&O traffic. Up the branch are four loaders, though the track arrangements are somewhat speculative as all I had were topo maps to work with.
Staging is generous for the number of trains needed, and because only one train at a time would be running on the layout, an entry-level DCC system (or even a DC system) would work just fine as long as it had a walk-around throttle.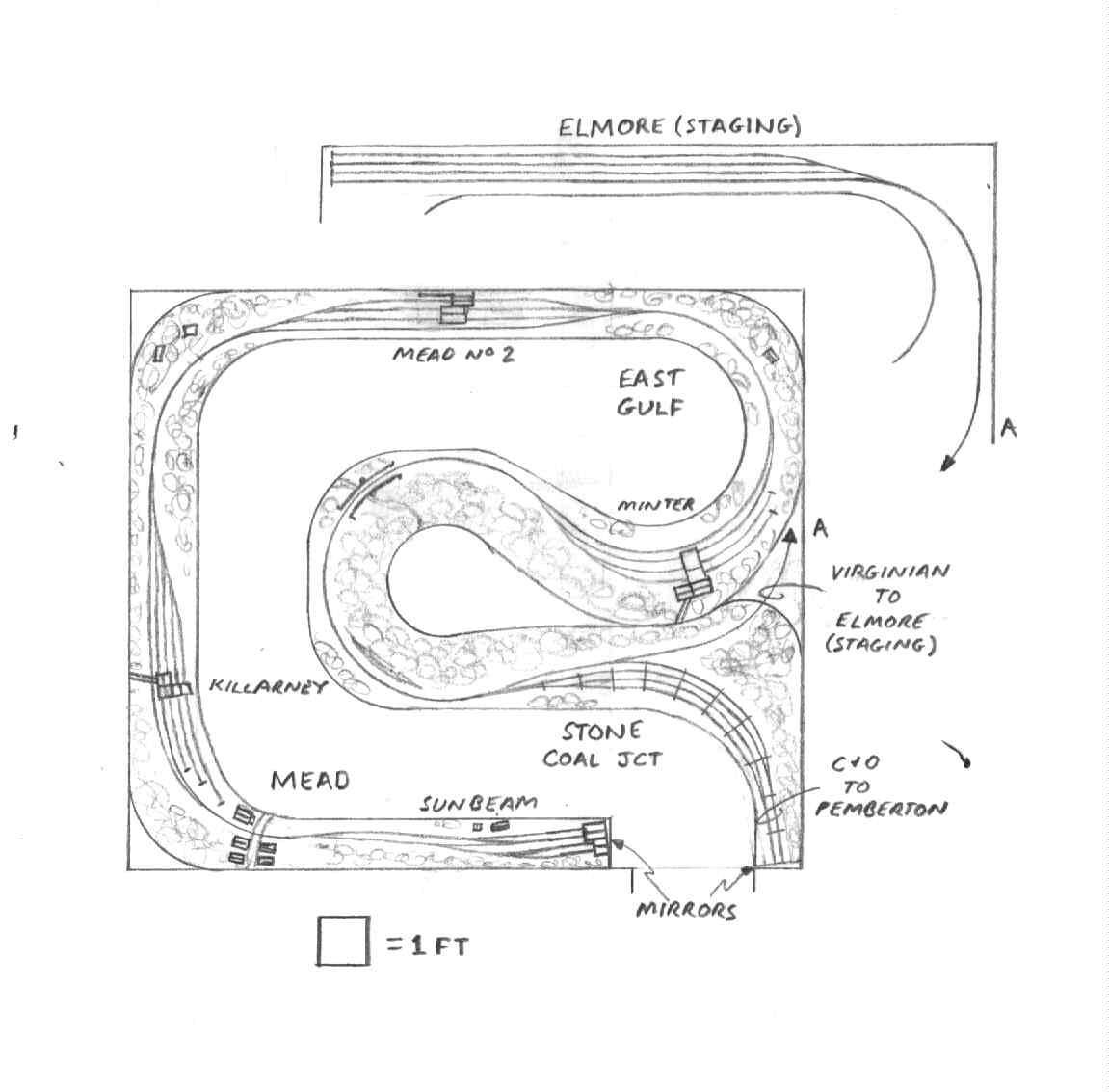 Operations
This layout could keep one or two operators busy for an hour or two. C&O empties would be set out at Stone Coal Jct. before the session. A Virginian mine run with a Trainmaster and twelve to fifteen hoppers would emerge from staging to deliver empties to the four large tipples along the branch. In addition to VGN hoppers, the mine runs would also have to pick up empties from the C&O at the junction and distribute them appropriately. The mine run would then pick up the loads, take them to the junction, separate the C&O loads to be left at the junction, and take the remaining loads back to Elmore. The short run-arounds on the layout would make shuffling cars a challenge.
Things I Like About this Plan:
Lots of loaders in a small space
Sorting C&O hoppers at Stone Coal Jct. adds extra operation
Things I Don't Like About this Plan:
Very compressed
Track arrangements guesswork
Related Products: