Size: 19′ x 33′
Scale: HO
Minimum Radius: 30″ (24″ in helix to Monarch)
Minimum Aisle Width: 30″
Designed by Dan Bourque

The St. Charles Branch was a tree-shaped branch of the Southern northwest of Appalachia, VA. The Southern owned the branch, but the L&N (and the CSX today) had trackage rights over the entire branch.  It appears that a Southern mine run was operated out of St. Charles (two mine runs in the 70s) and served all of the mines up the branch lines.  The coal would then be moved south through Pocket and over to the yard at Appalachia (later Andover), VA.   The L&N accessed the line via a short connection from Pennington, VA to Pocket and served a few of the mines before returning to Pennington.  In the steam era, an L&N crew was stationed at Pennington to work the St. Charles branch, but as times got lean, this work was turned over to the CV local.  In addition to the mine runs, unit trains also loaded on the St. Charles Branch and continue to load today.
The Layout
This layout represents the Southern's St. Charles branch from Pocket, VA up through St. Charles and out four different branches to the mines.   This layout was drawn mostly from topo maps, so the actual track layouts at the various tipples may not be very accurate (any additional information would be greatly appreciated).
The plan was designed to keep the middle of the top room open. The lower level represents the junction of the L&N and Southern at Pocket, VA as well as the Monarch area of the St Charles Branch. The upper level represents the small yard at St Charles and a few of the area's loaders. The tree-like branch structure is well represented. Staging is not drawn, but tracks would be under the shelves of Monarch and Kemmerer Gem in the top room. Because of its size, a mid-sized DCC system with walk-around control would be ideal for this layout.
Lower Deck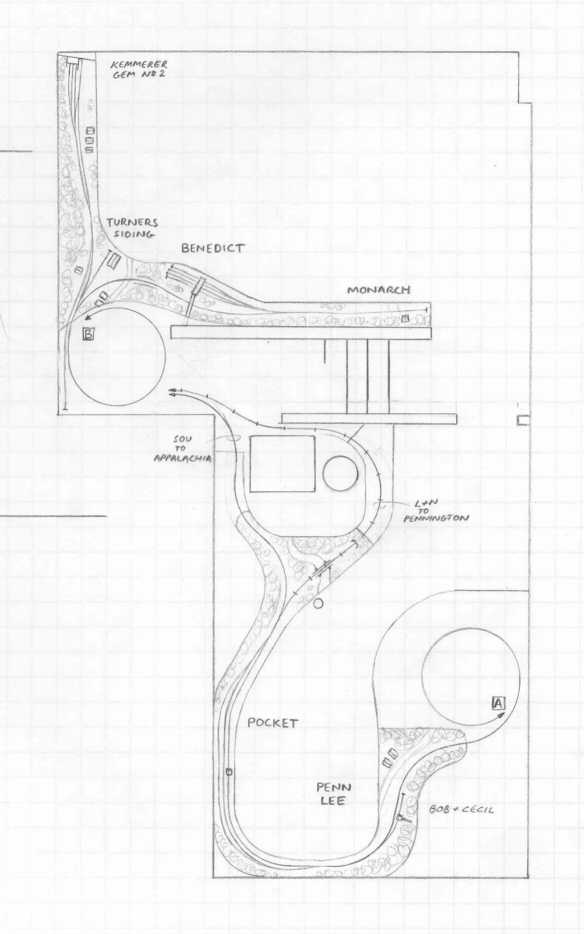 Upper Deck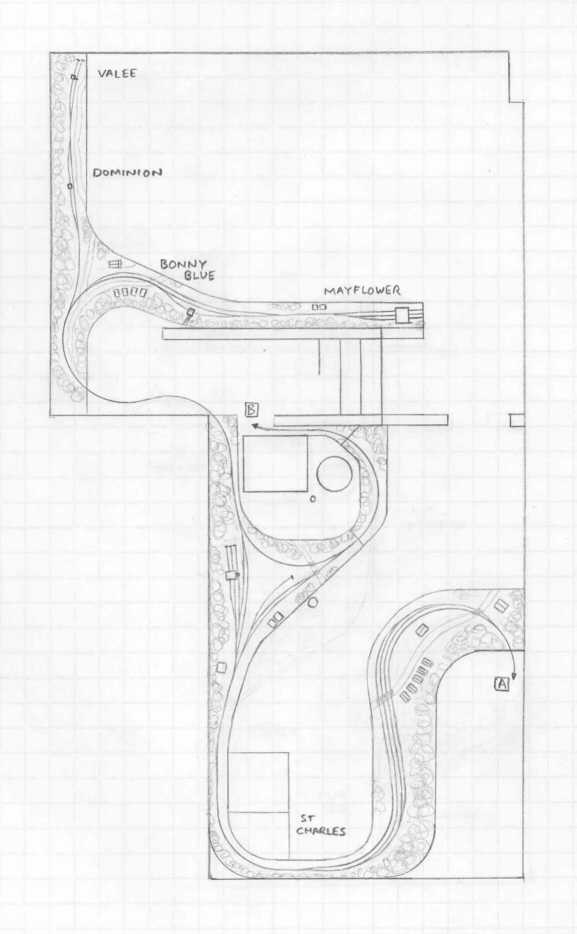 Operations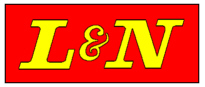 Operations on this layout would be comprised of one or two Southern mine runs working the branches, and a daily L&N train to work the loaders they had cars at.  There might also be a daily train or two from Appalachia/Andover to supply St. Charles with empties and to retrieve the loads.  In the 70s and beyond, there would be at least one unit train loading on the branch daily (not sure where).  All of this could definitely keep 2 or 3 operators busy for a few hours.
Things I Like About this Plan:
All major loading points are represented
Multiple railroads operating on a single branch
Small, simple yard at St. Charles
Requires lots of switching moves to work everything
Things I Don't Like About this Plan:
Tight helix (24″) to access Monarch branchline
Track gets pretty complex when weaving through obstacles (like water heater/furnace)
Related Products:
Type:
Auction
Bids:
0
Ends in:
3d 19h 32m