Size: 15′ x 20′
Scale: HO
Minimum Radius: 27″ 
Minimum Aisle Width: N/A
Designed by Dan Bourque

The Southern Railway's branch to Monarch, VA was a leg of the coal-producing St. Charles Branch west of Appalachia, VA. The L&N had (and CSX still has) trackage rights on the branch, so mine runs from both railroads worked the major mines on the line including Blue Diamond's Monarch Mine, Benedict and Kemmerer Gem.
The Layout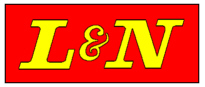 This track plan represents the Monarch Branch and Kemmerer Branch of the St. Charles line as they appeared in the 1950s or early '60s before the Monarch tipple was torn down. In addition to the three major tipples, I've included two smaller tipples at Kemmerer and Turners Siding for extra operation and variety. There were "wagon dumps" along the branches in the 1950s, so I've placed these docks at the locations of later truck dumps, even though they don't show up in a 1969 aerial photo. I had no luck determining the nature of the industry at Turners Siding, but my best guess would be a mining supply company–this industry shows up in a 1952 aerial but was gone by 1969.
The Kemmerer Branch is modeled well with little compression. The Monarch Branch is significantly compressed but contains all the prototypical track arrangements I could deduce from topos, photos and later track charts. Grades in this area were steep (upwards of 3% at some of the tipples like Benedict), so these grades are modeled in the plan which would require a brake mechanism to hold hoppers in place. The arrangement at Turners Siding is a composite of the 1950s era and 1970s era, but the second siding (adjacent to the small loader) is necessary to work Benedict.
Staging is reached via a one-turn helix under Turners Siding and provides ample room for up to four mine runs. Benchwork could be simple L-girder or box, and the hidden track is minimal which is a major plus. With only a few mine runs and limited track, an entry-level DCC system would be adequate to handle the layout, though walk-around throttles would prove handy.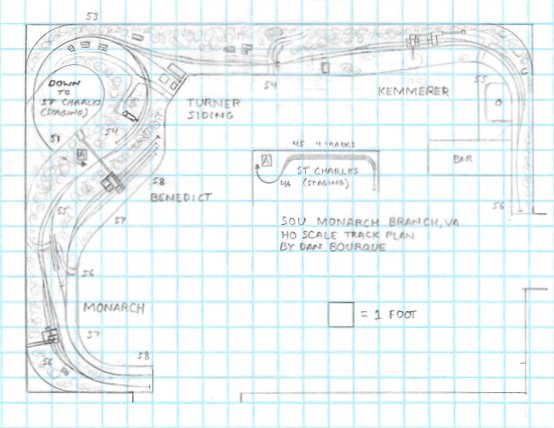 Operations
This layout is designed for 1-2 operators. The area was served by two mine runs almost daily, a Southern mine run and an L&N mine run. In the 1950s and early '60s, power would probably be a pair of F-units and the occasional GP7 for the Southern and a single black (later gray) RS3s for the L&N. Based on photos of the L&N's train 179/180 (CV Local) from the 1960s, the majority of the loadings were handled by the Southern. What's great about this plan is you could change operations significantly by varying which loaders are shipping for each railroad. You could run an all-Southern session, you could run a mostly L&N session with only the industry and small loaders handled by the Southern, or you could run a mixed session with loaders split between the two (and even some loaders shipping to both). Mine runs would leave staging and head to Turners Siding. If the mine run is serving both branches, empty hoppers for one  branch would be left in one of the sidings while the mine run worked the other branch. Once those loads were gathered, they would be brought back to Turners Siding and swapped for the empties. Working Monarch and Kemmerer is straightforward, but Benedict, with its switchback and stub tracks, creates quite a challenge, especially if you hold to having a caboose at the end of the train during the long back-up moves. I envision mine runs making at least two trips back to Turners Siding to drop off loads and make room for empties.
In addition to the shipping variations already mentioned, variety could also be added by idling loaders, the occasional boxcar, flatcar, tank car or covered hopper shipment to a mine, and modeling a different era (to include steam). If modeling a later era, the Monarch tipple would be out-of-place (but who's nitpicking), and the F-units and RS3s would be replaced by Southern GP38s and L&N C420s (among others). Operations at Benedict and Kemmerer continued into the '80s when a flood loader was built between Monarch and Turners Siding.
Things I Like About this Plan:
Two railroads
Challenging but prototypical track arrangements for switching
Good options for variety
Things I Don't Like About this Plan:
Monarch Branch significantly compressed in length
Some switches tough to reach
Benedict and Turners Siding scenes stacked too close
Related Products: