by Henry Statkowski
Photos and figures by the author

The R. J. Corman Railroad, Pennsylvania Line (Reporting Marks "RJCP"), operates over former New York Central and Pennsylvania trackage in West Central Pennsylvania (including a five-mile stretch over former Baltimore & Ohio (Buffalo, Rochester & Pittsburgh) and the joint NYC/PRR Cherry Tree & Dixonville Railroad). Operating westward from its connection with the ex-Conrail (now Norfolk Southern) Buffalo Line at Keating, PA, the RJCP continues westward to its hub at Clearfield, PA. From here, branches reach out in various directions to those coal-loading facilities still in operation. The coal-loading facility at Clymer, Pa. is one of them.
As of 1999, one train per week operated between the hub in Clearfield (Clearfield County) and the Mears Enterprises loading facility in Clymer (Indiana County), some 60 rail miles to the southwest on the 32.3 mile long Cherry Tree Branch. Once upon a time, the New York Central operated at least three trains each way on a daily basis, with the Pennsylvania operating on top of that, each serving their own particular mines on the various branches.
The RJ Corman trains in the late '90s generally consisted of five GP38s (both high and low-nose variants) pulling a hundred or so 100-ton coal cars and five more engines bringing up the rear. Upon arriving in Clymer, the 100-car train got cut in two for loading and the return trip (one train up, two trains back). After suffering two derailments after coming down the hill and hitting the 14-degree curve in Cherry Tree, Pa., 100-car trains were no longer operated.
Loading facilities in Clymer are minimal: a loading dock, a coal pile and three front-end loaders. Cars can be loaded at the rate of three minutes per car. Coal for the loading site originates from various local sources, some brought in by "coal buckets" (10-ton dump trucks) and some from the on-site strip mine. The coal preparation plant is located on the other side of the ridge behind the load-out site, so a conveyor belt is used to bring all the coal to the load-out site with front-end loaders relocating the coal from the conveyor pile to a separate loading pile.
Figure 1. Operations at Clymer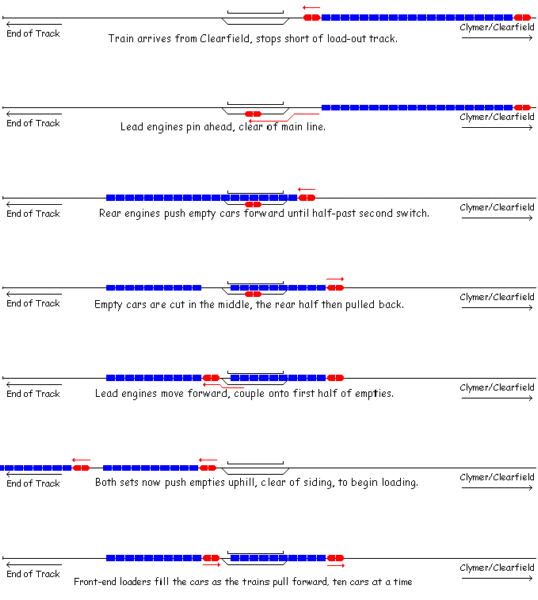 Although four-axle power was used between the mines and the hub at Clearfield, PA, RJCP obtained surplus Union Pacific SD40s and SD40T-2s for Norfolk Southern run-through service from Clearfield eastward.
Related Products: