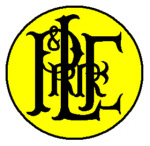 History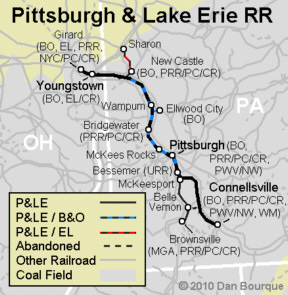 The Pittsburgh & Lake Erie Railroad, founded in 1875, was designed to be a heavy hauler. The original concept of operation was to provide service to the steel mills of Pittsburgh, PA and Youngstown, OH. Its river valley route and access to coal hauling railroads in southwestern Pennsylvania meant its lines hauled disproportionate freight tonnage for its length in miles, earning it the nickname "the Little Giant."
For most of its life, the P&LE's was controlled by the New York Central, from 1887 until the formation of Conrail in 1976 when it regained its independence. Most of the coal hauled by the P&LE originated offline, but the abundance of steel industry along its route ensured a heavy flow of coal. In 1901, when the P&LE connected with the Pennsylvania Railroad at Brownsville, PA, both railroads decided to tap the rich coal fields along the Monongahela River, and the Monongahela Railway was formed as a cooperation between fierce competitors PRR and NYC. In 1926, both railroads allowed the B&O (which had a southern connection with the line) to obtain 1/3 of the Monongahela, leaving the P&LE as a 1/3 owner of this coal hauler with a good portion of its traffic heading north over the P&LE.
In 1934, the B&O bought traffic rights over the P&LE from McKeesport to New Castle. This gave the B&O a straighter shot through Pittsburgh. This arrangement lasted into the CSX era. Once it gained its independence in 1976, the P&LE began to decline along with the decline of the "rust belt" it served. Some blame poor management and greed, but regardless of the reasons, the P&LE sold its interest in the Monongahela to Conrail in 1989, and in 1992, with most of its customers gone and its physical plant and rolling stock rapidly declining, the P&LE was sold to CSX, primarily to preserve the CSX's line through Pittsburgh.
Coal Operations
At least in the diesel era, coal trains didn't load on the P&LE–the P&LE instead hauled a lot of coal from its connections in Connellsville and Brownsville to its customers further north. However, P&LE power could often be spotted at coal loaders on the Monongahela Railway. P&LE power was sometimes leased by the Monongahela (usually U28Bs), but in the later years, MGA crews would use P&LE power (GP38s and GP38-2s) along with a Super-7 to load trains at one of the Monongahela's large unit loaders before handing the trains off to the P&LE at Brownsville.
Related Products:
Sources:
New York Central System Historical Society. nycshs.blogspot.com
Stegmaier, H. and Mullison, J., Twilight of the Monongahela. H&M Productions
For related information, see the Monongahela and CSX pages