Trackplans

(No RJC trackplans currently available)

Photos

RJ Corman Photos

Models

(No RJC models currently available)
History
RJ Corman has a relatively short history as a shortline railroad operator, but it's a history of taking Class 1 lines being cast-off by the big railroads and turning them into profitable shortlines. RJ Corman (named for its founder Richard J. Corman), was founded in 1973 to perform maintenance, construction and derailment services for other railroads. In 1987, RJ Corman acquired the 20-mile Bardstown, KY line from CSX. In addition to hosting RJ Corman's "My Old Kentucky Dinner Train," the Bardstown Line (RJCR) was the first in a series of successful shortline operations throughout the eastern US. Other shortlines include the Central Kentucky Lines (RJCC), Memphis Line (RJCM), Tennessee Terminal (RJCK), Cleveland Line (RJCL), Western Ohio Lines (RJCW), Allentown Lines (RJCN), Pennsylvania Lines (RJCP) and West Virginia Line (RJCV). In total, RJ Corman operates more than 650 miles of rail lines, but each short line is geographically separated.
Coal Lines and Operations
Two of RJ Corman's short lines serve coal loaders: the Pennsylvania Lines and the West Virginia Line.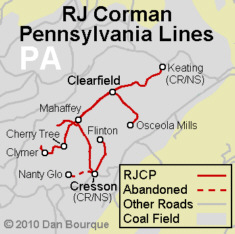 Pennsylvania Lines. The Pennsylvania Lines (RJCP) is RJ Corman's largest shortline with 207 miles of track in west-central Pennsylvania. The line consists of former Pennsylvania Railroad and New York Central lines and includes most of the former Cherry Tree and Dixonville Railroad jointly owned and operated by the PRR and NYC until the Penn Central merger. RJ Corman bought the line from Conrail in 1995 and serves several coal operations on numerous branches surrounding the yard at Clearfield, PA including an interesting loadout at Clymer, PA where hoppers are loaded by front-end loaders. After years of interchanging with Conrail, RJCP now interchanges with Norfolk Southern at Cresson and Keating. RJCP uses primarily GP38s (including former Southern high-nosed units) along with a few SD40T-2s and an SD40-2 for coal-hauling operations.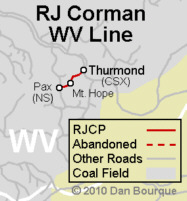 West Virginia Line. The West Virginia Line (RJCV) is one of RJ Corman's newest (2005) and one of its shortest (16 miles). The former Chesapeake & Ohio line from Thurmond to Mt. Hope in southern West Virginia was purchased from CSX in 2005, and RJ Corman initially served Georgia Pacific, Austin Powder and Tanner Industries at Mt. Hope. However, in 2006, the line was extended from Mt. Hope to Pax, WV along an abandoned CSX right-of-way to serve a coal loader operated by Pioneer Fuel. This new line also gave RJ Corman a connection with the NS. Locomotives used on the RJCV include SD40T-2s.
Articles:
Related Products:
Sources: