Size: 11′ x 15′
Scale: HO
Minimum Radius: 27″ 
Minimum Aisle Width: 24″
Designed by Dan Bourque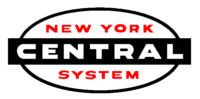 Its line into West Virginia notwithstanding, the heart of coal country for the New York Central was Clearfield, PA. From Clearfield, lines radiated in several directions, including a winding route south along Clearfield Creek. A handful of branches left Clearfield Creek for the hollers, including the Boardman Creek Branch which followed Potts Run serving a handful of loaders. In its heyday in the 1940s, the line stretched five miles from Potts Run Jct to Carnwath, PA. The line was abandoned by the NYC in the 1960s, though a 1969 aerial photo still shows a few of the tipples standing in the Penn Central era.
The Layout
This plan represents the branch during the transition era (1940s-1950s) and includes the five small tipples seen in topo maps and aerial photos. Track arrangements are approximations based on available data. While the branch was stub-ended, the tail track extended well past the last loader near Carnwath, so I've taken advantage of this to connect the end of the branch to the staging yard underneath via a 1.5-turn helix to allow continuous running, if desired.
While little information is available on the operations of this branch, its small enough that no more than one train would be allowed, so any DC or DCC control system with a walk-around throttle could power the layout. Construction would be straightforward using either box or L-girder construction, but staging would be difficult to access unless more turns were added to helices at either end. Staging is drawn as three tracks, but if desired, a single track might be sufficient and limit the headache of hidden switches.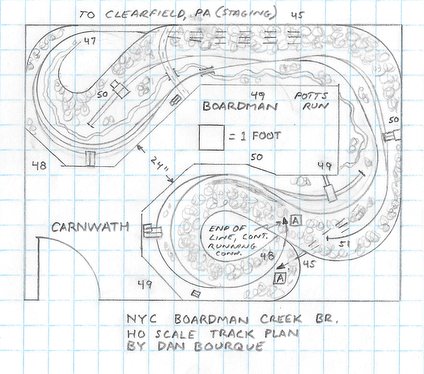 Operations
Operating this layout would challenging due to the number of stub tracks, mix of facing- and trailing-point sidings, and the single run-around track near the beginning of the branch. A mine run powered by a beefy NYC 2-8-2 or a pair of lightning-striped GPs would leave staging with between 15-30 empty hoppers and a cab. At the run-around siding, empties for the facing-point tipple would need to be placed on the front of the train. From there, the mine run would run up the branch, pulling loads and dropping empties. The loads from all the trailing point tipples would need to be hauled up the branch–no wonder the tail track at Carnwath was so long! After placing the last empties at Carnwath, the mine run would head back down the branch, picking up any remaining loads from the tipples.
Things I Like About this Plan:
Continuous running
Track arrangements add challenge to operations
Things I Don't Like About this Plan:
Limited variety
Some switches tough to reach
Narrow aisle pinch-point
Related Products: