Size: 10′ x 15′
Scale: N
Minimum Radius: 18″
Minimum Aisle Width: 30″
Designed by Dan Bourque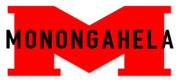 If you like unit trains, big loaders and lots of different railroads, this is a great plan for you!  The Waynesburg & Southern was built by the Pennsylvania Railroad (a 1/3 shareholder in the Monongahela) and opened in 1968 to serve three large coal loaders being built around Blacksville, WV.  From its inception, it was operated as a branch of the Monongahela.  The Monongahela had its own branch to Blacksville, but it was too old, too steep and too full of curves to operate unit trains, so it was abandoned east of the Blacksville No 1 loader once the new line was open.  In 1977 another large flood loader (Emerald No 1) was built just west of Wayesburg.  In 1984, the Monongahela built the Manor Branch from Waynesburg to Time, PA to serve the huge mining complex and loader at Bailey, the biggest producer on the Monongahela.  Because of its ridge-crossing profile, the Manor branch required helpers for trains moving in either direction.  Together, these branches saw several unit trains per day (Bailey could load up to 8 a day).  With the exception of Blacksville No 1 which shut down in the early '90s, these branches and loaders continued to be served by Conrail after it took over the Monongahela in 1993 and later the NS.
The Layout
Because of the huge loader complexes and unit train operations, this area is ideal for N-scale modeling.  While fairly compressed, this layout hosts a lot of big-time operations including unit trains and helpers into a bedroom-sized area.  It is designed to represent the Monongahela operations from the early '80s to the early '90s, but with slight changes such as the elimination of the Emerald and Bailey loaders, it can easily represent a late '60s, early '70s era (good for you shark-nose freaks out there).   Additionally, if you don't want a double-deck layout, the upper deck could easily operate as a stand-alone.   Though some of the tracks are shortened and some are stacked on top of each other (e.g. the passing siding at Waynesburg was well east of the Emerald loader), all of the major tracks are included, including the two "balloon tracks" around the loaders at Bailey and Blacksville No 2.
One of the neat things about this area was the diversity in motive power and rolling stock on the unit trains.  In addition to the MGA's black GP38s and a few second-hand GP9s, the Monongahela also leased motive power regularly from one of its parent companies.   These leases included GP38s and GP38-2s from Conrail, U28Bs from the Pittsburgh & Lake Erie (P&LE).  In 1991, the Monongahela replaced its GP38s with eleven "Super-7″s but still required additional power which came in the form of C30-7s leased from Conrail.  Several unit trains originating on the Monongahela's parent lines ran through to their loading points.  These trains included B&O trains with Chessie power (and later CSX power), Conrail trains and P&LE trains.  The P&LE trains often ran with sets of black P&LE hoppers or blue Bessemer & Lake Erie hoppers.  Other trains boasted modern 100T gons of various builds.  Often, these foreign-road trains would have one or two Monongahela units mixed in.  Some trains also pooled power from the destination roads including one unit train that loaded at Bailey with C&NW power.  Finally, the big customer on this line was Detroit Edison which ran huge 140-car trains with 5 Detroit Edison U30Cs as power (split up front and mid-train).
Lower Deck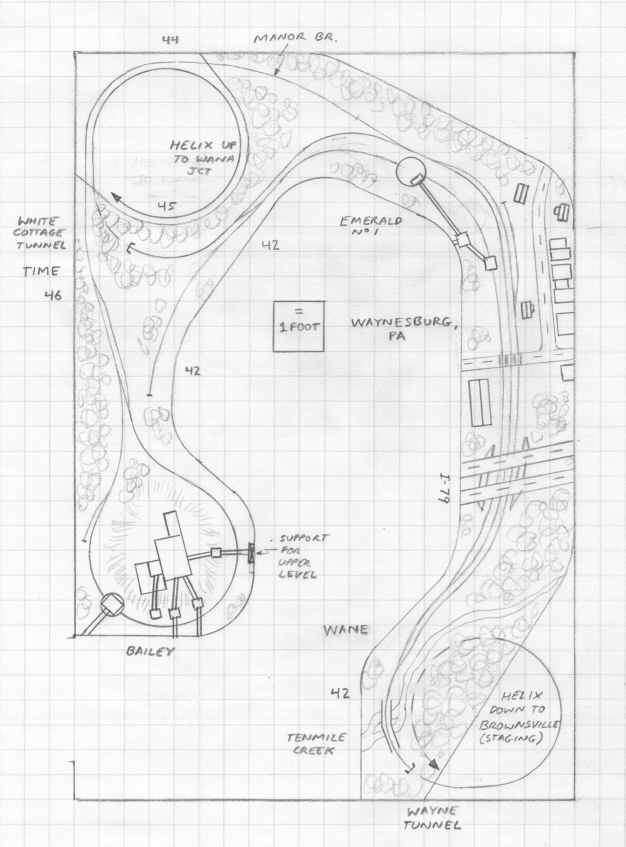 Upper Deck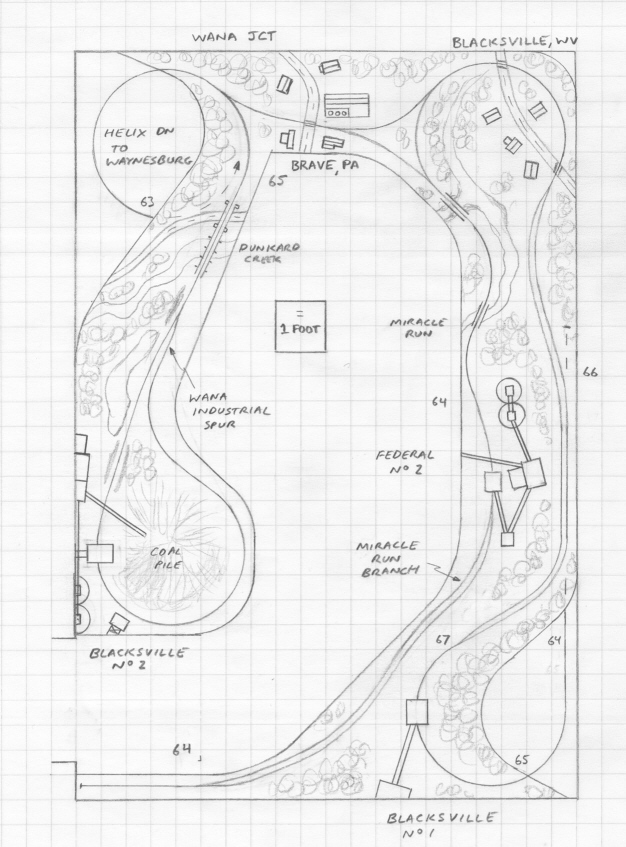 Operations
Operations could easily keep 2-3 operators busy for a few hours.  While unit train operations may initially sound monotonous, customer needs drove some interesting variations.  First, trains going up the Manor Branch required helpers (generally front-end helpers).  The Monongahela stationed a couple of units in Waynesburg for this purpose, and the units would help the unit trains up to Bailey then assist them back to Wayesburg before cutting off.  This procedure would be repeated up to 8 times a day–not bad for a branch with 1 loader!  Operations on the W&S were no less interesting and comprised of 3-6 trains daily.  Before moving their unit trains to Bailey in the mid '80s, Detroit Edison would run a unit train to Wana Jct, split it at the mid-train helpers, and then load at both Blacksville No 1 and No 2 before recombining.   Also, other trains would "layer load" by starting at Federal No 2 to put coal in the bottom of the cars and then moving to Blacksville No 2 to top off.   Because this required a long back-up move down the Wana Industrial Spur, a caboose was always used and often found itself on the head end just behind the engines for the return trip.  For those wising to model the Conrail (or even the NS) era, the loader at Blacksville was replaced by a Fly Ash plant, so it saw a local with a handful of cylindrical hoppers a couple of times per week.
The real challenge with modeling this many unit trains is loading them.  Unless you want live loading operations, operators would need to add loads to their trains as they pull through the tipple.  This is not terrible, but it's not desirable either.   One way to mitigate this is to stage a loaded train at some of the loaders before an operating session and terminate empty trains at the loaders at the end of a session.   Staging is not depicted in this plan, but it would be a simple double-ended yard under Waynesburg and the helix with a reversing loop under Bailey.  At least 12-15 tracks would be needed.
Things I Like About this Plan:
Lots of coal train operation in a small space
Track arrangements reasonably prototypical
Generous center aisle
Nice scenery possibilities
Diverse motive power and rolling stock
Things I Don't Like About this Plan:
Distances very compressed
Scene at Federal No 2 and Blacksville No 1 stacked
Non-prototypical grades at Federal No 2 and Blacksville No 1 (line to Federal should be climbing while line to Blacksville should be descending)
Operators need to load their own trains by hand
Related Products: