Size: 9′ x 9′
Scale: N
Minimum Radius: 12″
Minimum Aisle Width: 48″
Designed by Dan Bourque

The Interstate's Dixiana branch north of Norton, VA was home to several coal loaders and served by two mine runs per day.  A small yard at Norton was used by the Interstate's first and third mine runs and "Hill Crews" bound for the Clinchfield at Miller Yard to sort cars bound for the Southern and L&N (west) from those bound for the Clinchfield (east) and the N&W at Norton.  The N&W's medium-sized yard at Norton was shared with the L&N and was home to several industries.
The Layout
This layout was designed for a friend in Australia (hence the metric dimensions).  It is designed to capture the feel of the Interstate in and around Norton in a very small space.  Due to space constraints, the branchline is significantly compressed, and several loaders between Norton and Holton are omitted.   The focus is on the Interstate, so the N&W yard at Norton is SEVERELY compressed, though it will still facilitate interchange with the Interstate and L&N.   Additionally, a few of the N&W's industries are modeled to support more non-coal operations.  There is enough staging for four Interstate trains (two mine runs and two hill crews), 1-3 L&N trains and 2-4 N&W trains, and the staging provides two continuous running loops.  The tight minimum radius lends itself to an early/mid-60s operation where the motive power was primarily 4-axle.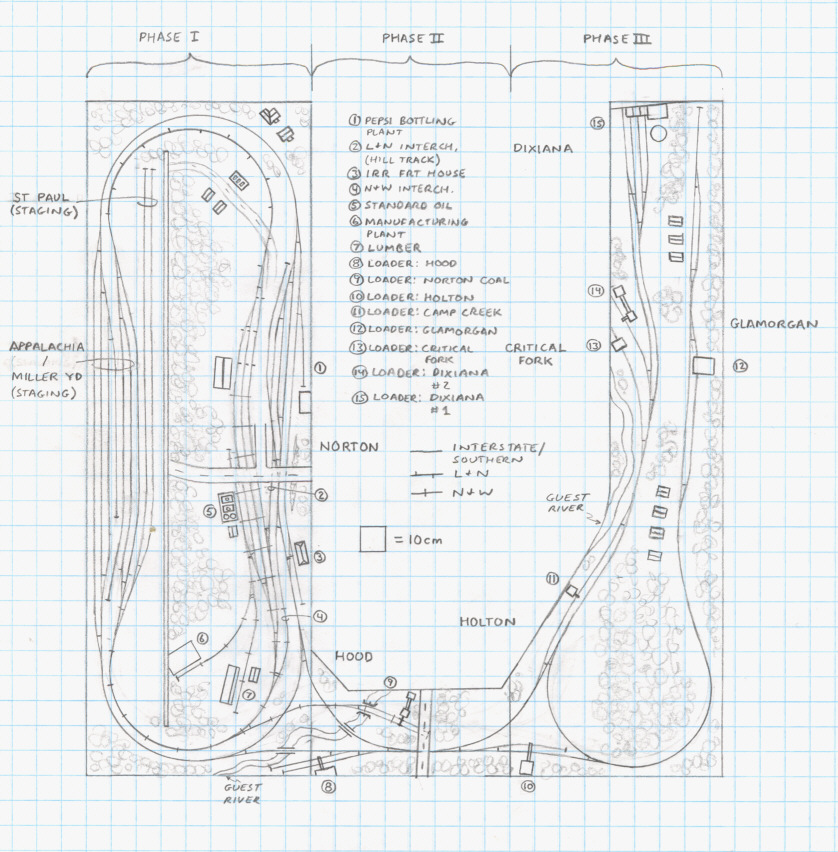 Operations
Operations on this layout could keep two operators busy for an hour or two covering 12 hours on the prototype.  One operator could work the Interstate with two trains (one mine run and one hill crew) and the other operator could work the N&W and L&N trains dropping off interchange traffic and working the local industries.
Things I Like About this Plan:
A lot of industries, loaders and switching for a small layout
Ample staging
Modular and expandable
Ability to have continuous running
Generous aisle space
Things I Don't Like About this Plan:
Large liberties taken with prototype track arrangements
Lots of compression (the N&W yard at Norton is RIDICULOUSLY compressed)
Reach-over access to staging
Tight minimum radius
Related Products: