Size: 10′ x 12′
Scale: HO
Minimum Radius: 24″
Minimum Aisle Width: 24″
Designed by Dan Bourque

The Interstate's Dixiana Branch sprouted from their Glamorgan Branch north of Norton, VA and served a handful of loaders including the large Dixiana No 1 tipple.
The Layout
This bedroom-sized layout represents the Interstate's Dixiana and Glamorgan Branches as they appeared in the 60s and 70s during the transition from the Interstate to the Southern Railway. It begins at Holton, a few miles north of Norton and the site of the wye where the Dixiana Branch leaves the Glamorgan Branch. Included in the VERY compressed track plan are 6 loaders (missing Camp Creek near Holton) and the Austin Powder facility at Holton. Due to space limitations, the wye at Glamorgan was omitted and a single spur serving a small loader put in its place. A small DCC system like the Digitrax Zephyr or MDC Prodigy with walk-around throttles would work fine for this layout.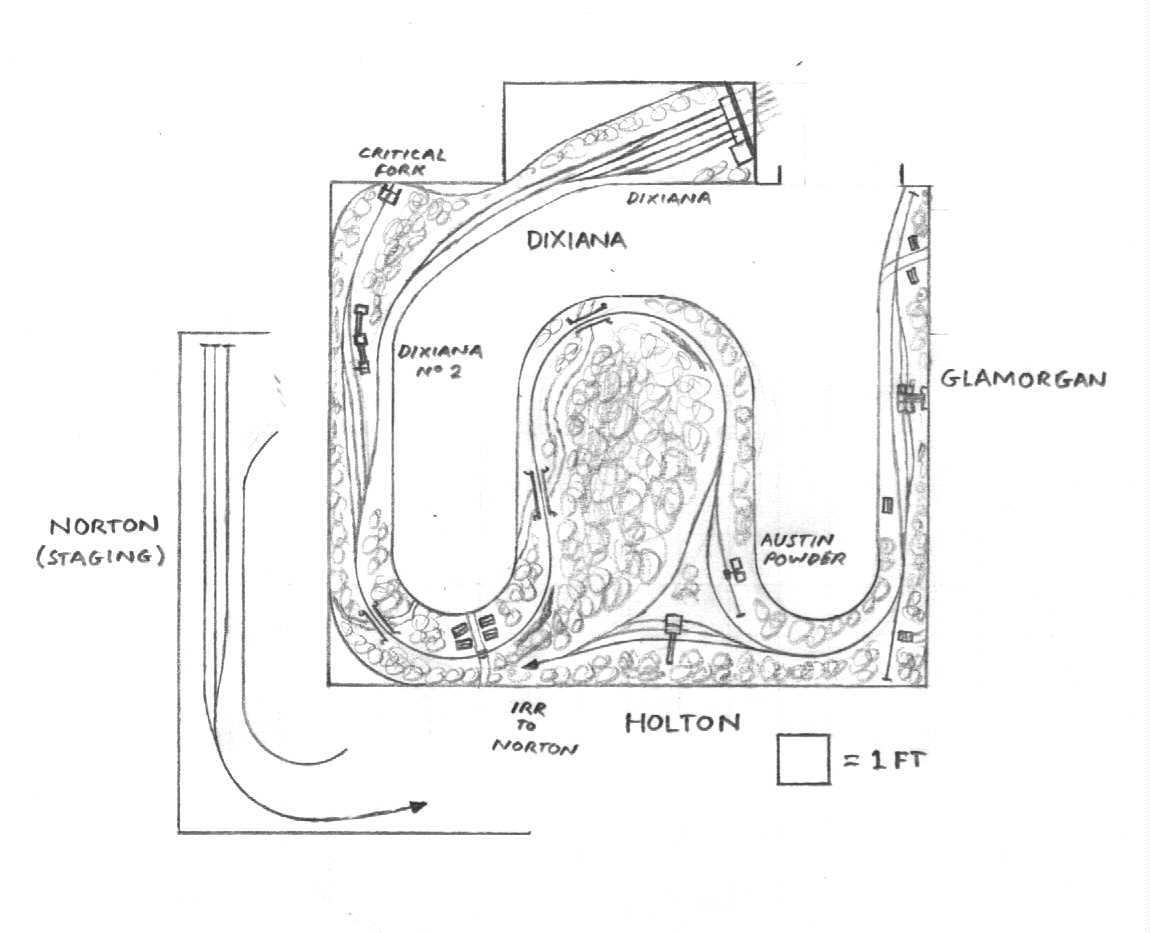 Operations
This layout could keep one or two operators busy for a an hour or two. During the early Southern era, the branch was worked by the First and Third Mine Runs out of Andover, VA. The Dixiana No 2, Critical Fork and occasionally the Dixiana No 1 tipples loaded primarily "yellow balls," that is, loads of coal destined for the huge transloading facility at Appalachia. The yellow ball hopper fleet consisted primarily of old twin offset hoppers with height extensions as well as ex-Interstate rib-side twins. The loaders at Glamorgan and Holton (Addington), and Dixiana No 1, loaded into 70 and 100 ton hoppers. Standard mine run equipment until 1965 was a single Interstate RS3. During the sixties, the Southern augmented the Alcos with its own F-units (very unpopular with Interstate crews). In the seventies, power was a pair of GP38s (or Dash-2s) with an occasional GP30 or 35 thrown in.
The First Mine Run would emerge from staging to work the tipples receiving "normal" hoppers and occasionally drop "yellow balls" at other tipples, but it would only collect normal loads before returning to staging. The Third Mine Run would drop yellow ball empties at the remaining tipple and collect yellow ball loads and return them to Appalachia. One of the crews would also have to work the siding for Austin Powder, an explosives transfer facility which received covered hoppers of Ammonium Nitrate.
Things I Like About this Plan:
Lots of switching
Lots of loaders in a small space
Things I Don't Like About this Plan:
Severely compressed
Tail track at Glamorgan too short (must run engines under tipple)
No empty tracks at Dixiana (must use same tracks for empties and loads)
Related Products: