Size: 7′ x 20′
Scale: HO
Minimum Radius: 27″
Minimum Aisle Width: 27″
Designed by Dan Bourque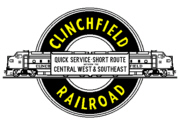 This track plan is a little different for ARM because it doesn't have a single coal loader. Instead, it focuses on Kingsport, Tennessee, an industrial area along the Clinchfield mainline. Despite the lack of coal loaders, this area still had plenty of hills and tunnels, and the mainline still offered plenty of coal trains moving through. Still, the large industries in Kingsport are what kept the railroad busy. The largest customer in Kingsport was (and still is) Eastman Kodak (now Eastman Chemical). In fact, Eastman basically occupies the entire west side of town and runs its own small fleet of switching locomotives to service the dozens of loading and unloading points along its lines. Other big customers in Kingsport include Weyerhaeuser's Domtar Paper plant, AFG glass and the Holston Ammunition Plant west of town. Scenically, the town lies alongside the Holston River and is framed by hills. A steep ridge on the south end of town forces a short tunnel before crossing the Holston River on a tall bridge.
The Layout
The most challenging thing about designing this layout was working with the narrow space–it basically forced either a point-to-point switching layout or a loop with a duckunder because there was not sufficient space for a peninsula or turning loop at the end. This design offers a very compressed version of Kingsport but would still allow most of the operations in the town to be modeled in the space. The yard is compressed but still functional, and the siding is of adequate length to allow 16+ foot trains (about 25 cars plus locos and a cab). Staging access is a problem because of the tight vertical clearance, even with a 2.5 percent track grade to get to staging. On the positive side, the tracks are generously long, and the double-ended design allows for continuous running and recycling of trains during an ops session (i.e. one train can be run multiple times to represent multiple trains).
I used topo maps to determine the track locations and a combination of photos (from searching "Kingsport" at railpictures.net) and online business directory addresses to locate industries that were served by rail. Consequently, the names used in the track plan are recent and may have changed from the original industry names served by the Clinchfied.  Many of the industrial spurs either run off the edge of the layout or into a backdrop to simulate the longer spurs used on the prototype. Instead of attempting to model the huge Eastman Chemical complex and the sprawling Holston Ammo Plant, I depicted portions of their tracks (one for the ammo plant and eight for Eastman) that can be operated much like interchanges (somewhat prototypical for Eastman). Some of the large buildings are partially modeled to suggest a much larger facility, and mirrors on the backdrop at the south end (tunnel end) might help make it look even larger, as would modeling one of Eastman's switchers and setting it on the interchange tracks. Other industries are modeled in a compressed fashion. Only about half of the paper mill tracks are modeled, but there are still three tracks to the main plant and one track on the aisle side of the yard for wood chip unloading (where the conveyor crosses the yard). Other industries modeled include a one-track intermodal "yard" (not sure when this went in), a glass plant, a Borden plant, a food warehouse, a couple of oil/gas dealers and several other small warehouses and factories.  Additionally, there's room to model the distinctive Kingsport depot with building flats along the backdrop to represent the rest of the town.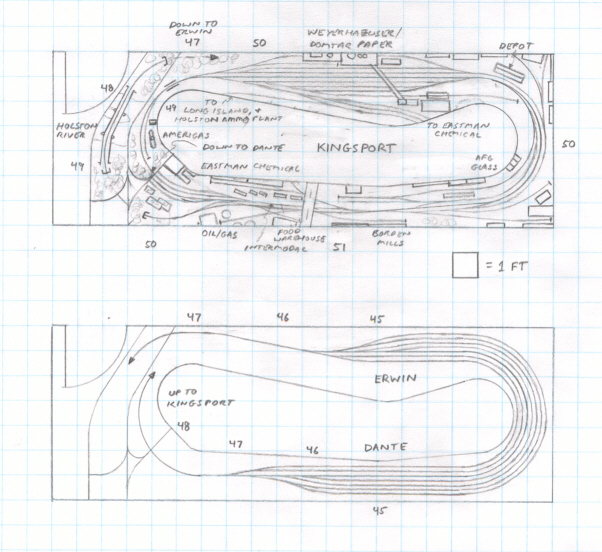 Operations
Operations on this layout could easily keep 2-3 operators busy for a couple of hours (though 3 might be a tight squeeze in the limited aisle space). One operator could work the yard and industries on the north end (yard end) of the layout while the second operator works industries on the south end. The second operator (or third) could run mainline trains as well. Trains from staging would stop in Kingsport yard to drop off and pick up local cars before heading back to staging. The yard operator would switch cars in the small yard and either set them out at the north-end industries or hand a block of cars bound for the south end of Kingsport to the second operator. To keep things interesting, there are both facing point and trailing point spurs with limited run-around tracks. Also, some spurs served multiple industries, so cars might have to be moved out of the way to set out or pick up a car further down the spur. Additionally, through trains might have to take the siding to wait for other trains creating additional problems for the switching crews to work around.  Any way you slice it, this layout provides hours of switching fun!
Things I Like About this Plan:
Tons of switching
Long staging tracks
Continuous running loop
Huge industries well suggested but don't have to be modeled
Interesting scene with tunnel and bridge near doorway
Things I Don't Like About this Plan:
Fairly compressed
A lot of spurs left out, particularly on the west side (Eastman side)
Very low vertical clearance for staging–no room to fix problems
Duckunder
Relatively small aisle space
Related Products:
Sorry, no items were found to display. That could mean that these items are currently not available or that there is a temporary problem.
You could try checking later, or go and search eBay directly.