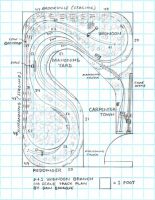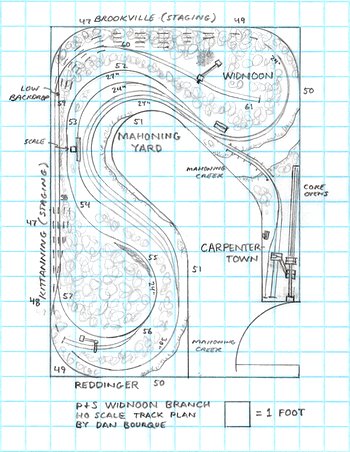 Size: 10′ x 14′
Scale: HO
Minimum Radius: 24″ 
Minimum Aisle Width: 35″
Designed by Dan Bourque
Mahoning Yard on the Pittsburg & Shawmut in the rolling hills of western Pennsylvania was where the three-mile long Widnoon Branch (formerly Tidal Branch) split from the mainline along Mahoning Creek. Mahoning was also the dividing point between the two locals that worked the P&S–the Kittanning Local from the south and the Brookville Local from the north. During the 1970s, the branch served two loaders reached via a three percent grade. Additionally, a shorter branch across the creek to Carpentertown served a bank of modern coke ovens later converted to a trump dump tipple.
The Layout
This track plan represents the … Read more →