Size: 15′ x 24 ′
Scale: HO
Minimum Radius: 30″ (except 28″ on non-mainline tracks as noted)
Minimum Aisle Width: 27″
Designed by Dan Bourque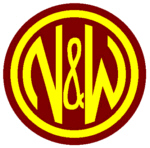 The Norfolk & Western's Dry Fork Branch was a major artery through the coalfields of southern West Virginia. The branch connected to the Pocahontas Division mainline along the Tug Fork at Iaeger, WV to the north and to the Clinch Valley Sub to the south at Cedar Bluffs, VA. The heart of the Dry Fork Branch was the yard at Auville, WV, near Iaeger, where mine runs were assembled and mine run power kept.
The Layout
This track plan represents a few key … Read more →