By Kurt Reisweber and Brad Esposito
Morning Sun Books 2015
ISBN 1-58248-449-X

 Review by Dan Bourque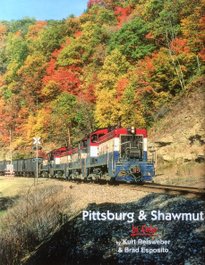 Pittsburg & Shawmut in Color chronicles this colorful, coal-hauling Pennsylvania short line from the 1970s through the end of its corporate life in the mid-1990s. This book is packed full of exceptional color photos (many by co-author Kurt Reisweber) covering nearly the entire railroad with rich and information-packed captions and text that tell the story the Pittsburg & Shawmut in an engaging and personal way.
The highest praise I can give for this book is before picking it up two days ago, I knew next-to-nothing about the P&S, and now I want to model it! This little 88-mile long road was a coal hauler through-and-through, and this flavor is clearly evident in the book which contains many photos of the loaders along the line during the diesel era. While being a coal hauler is enough for me to be interested, the P&S mainline also plied through the beautiful rolling hills of western Pennsylvania crossing creeks on long steel viaducts and popping in-and-out of tunnels as it made its way to interchange points with the big railroads including the Erie, B&O, Pennsy and their successors.
The photos and photo reproduction in this book are excellent throughout with only a few select marginal photos thrown in to cover little photographed spots on the line (which as a modeler, I appreciate greatly). There are only a few pages of true "text" in this book (mostly covering the road's history), but the photo pages (more than 100 of them) are well organized by geography from north to south, and the captions are first-rate adding great detail about everything in the photo from train designations, switching moves, and the history of buildings to the history of coal-mining operations in the area. This organization and quality of captions really gives the reader an excellent feel for the scenery and operations of each section of the P&S.
In addition to the core coverage of the P&S, this book also includes a three-page chapter on the Red Bank Railroad (operated by the P&S starting in 1990) and a 19-page chapter on the Mountain Laurel Railroad, a neighbor and corporate partner with whom P&S operations were intertwined after 1991. There's also a brief chapter covering Pittsburg & Shawmut equipment including their diesels, cabooses, hoppers and maintenance-of-way equipment. About the only thing that would make this book better would be a few maps and track diagrams of key spots, but this book still earns its 5-star rating without them. I read every line of this book in two days and enjoyed it immensely–it's a book I plan to come back to often for inspiration!
Subject:
Color photos and information covering the Pittsburg & Shawmut in western Pennsylvania during the diesel era
Primary Era:
1970s-1990s
Facts:
Pages: 128, Cover: hardcover, Photos: 270+, all color

Photos:
Excellent photos with good mix of scenery, trains, equipment, buildings and tipples
Text:
Primarily photo captions, but packed full of great information and historical data
Maps and Diagrams:
Only three maps, but they list all locations and aid in following the photos
Value for the Modeler:
Excellent source of both photos and operations information for any would-be P&S modeler
Purchase Value:
This book is not cheap, but I found it to be worth the price even though I don't model the P&S
Related Products: