By Ed Wolfe
HEW Enterprises 2013
ISBN 978-0-9720692-4-3

Review by Dan Bourque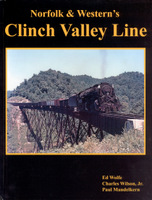 Those of you familiar with Ed Wolfe's previous books won't be surprised by this book's high rating. Ed, with help from many including his co-authors Charles Wilson, Jr. and Paul Mandelkern, delivers again with this history of the Norfolk & Western's Clinch Valley line. The N&W's Clinch Valley line extended from the N&W's main at Bluefield, WV to it's interchange with the Louisville & Nashville at Norton, VA. This line ran through coal country which is the theme of this book. Whether you're a modeler, history buff, or just like railroading, you'll find this book a valuable addition to your library.
Like Ed's book on the Southern Railway's Appalachia Division, this book starts at the beginning and covers the 1800s history of why this line was built and the personalities involved. However, this book is much more than just a history text. Ed goes town-by-town along the line and discusses how each town developed along the line and the operations from the beginning to the NS era. Accompanying the well-written text are hundreds of historical photos, diagrams, timetables, and topo maps to aid the reader in understanding the area. As in Ed's books on the Interstate Railroad, scattered throughout the book are first-hand recollections of the line and its operations from several who worked the line from the Depression era all the way to the Norfolk Southern era. In addition to towns along the mainline, the book gives a lot of coverage to the N&W's busy coal branches north of Carbo, VA (the Dumps Creek and Hurricane Branches) which just beg to be modeled.
For the model railroader hoping to model this area, this book is a MUST HAVE resource for a couple of reasons. First, this line is "under covered" by other books, and secondly, this book will give you much more insight into the operations and personality of this line which I haven't found anywhere else.
To order this book see the order form.
Subject:
History of the Norfolk & Western's Clinch Valley line from Bluefield, WV to Norton, VA
Primary Era:
1880s – 2000s
Facts:
Pages: 432, Cover: hardcover, Photos: 700+ B&W photos, 150+ maps, diagrams, timetables 

Photos:
Many historical photos covering entire date range from late 1800s-present
Text:
Well written history, interesting first-person accounts of operations
Maps and Diagrams:
Many topos, some track charts and diagrams, some timetables
Value for the Modeler:
Great source of photos, history and operational info for this line
Purchase Value:
Good price for a book of this magnitude
Disclosure: I received a free copy of this book from the author for help with information and contacts provided during its writing. However, the author did not request a review, and these opinions are my own.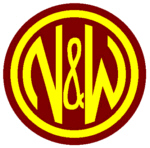 Related Products:


Type:
Auction
Bids:
1
Ends in:
1d 10h 41m