By Stephen M. Timko
Morning Sun Books 2015
ISBN 1-58248-444-9

 Review by Dan Bourque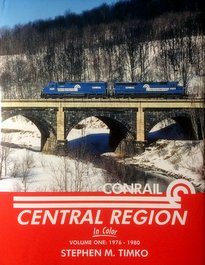 Stephen Timko's book Conrail Central Region in Color is a great resource for any modelers interested in Conrail's early years or Pennsylvania and eastern Ohio railroading in the '70s. What makes this book unique is the very finite area and time period covered–primarily two states and five years. Thanks to this narrow scope, the reader really gets a feel for what it was like to railfan and operate Conrail during this colorful era of consolidation.
The book is organized into three main sections with the first covering the Allegheny Division of central Pennsylvania (and even a slice of New York) including famous places like Altoona, Cresson and Horseshoe Curve. The second section covers the Pittsburgh Division in western PA and eastern Ohio, and the final section covers the Mahoning, Valley and Youngstown Divisions primarily in PA and OH. In addition to the big yards and famous scenic spots, though, the book does a great job of covering many of the branches and secondary lines in each division. If you have other "in Color" books from Morning Sun, you have a good idea of what to expect here–most of the text is in the form of photo captions and is packed with details. The captions often identify the trains, each track in the photo, key buildings, the history of the locomotives, etc., making this a good source of operating information about this area. The photos range from good quality to mostly excellent quality and range in size from 1/10 of a page to two-page spreads. The addition of a handful of less-than-excellent quality photos is primarily to cover rarely photographed areas or unique consists, and I appreciated the choice to include them. For the coal modeler, there are plenty of photos of coal trains (and lots of helpers) and a handful of photos of coal loaders which tended to be pretty remote during this era.
My biggest critique of this otherwise excellent book is the lack of good maps. I believe a few maps interspersed throughout each section showing town names and tracks between them would have greatly enhanced the photos and text, especially as the photos tended to jump from one area to another disconnected area without much warning. I found myself trying to orient by continually flipping to one of the inside covers of the book to try to find a town name on maps not detailed enough to list them all, something made more difficult because the Conrail system map used is much newer than the time frame of the book. Despite this issue, I'm glad to have this book in my collection as it provides an outstanding look of an often neglected but colorful time in railroad history. There's just something about seeing Erie Lackwanna SDP45s alongside Lehigh Valley Alcos, Reading GP30s and spartan Penn Central SD40s with only a few blue engines in sight that really tells the story of Conrail, and I look forward to reading about the evolution of this area in the later volumes.
Subject:
Color photos and information on the early years of Conrail between Harrisburg, PA and Ft. Wayne, IN
Primary Era:
1976-1980
Facts:
Pages: 128, Cover: hardcover, Photos: 260+, all color

Photos:
Great collection of photos from Conrail's early years, mostly in PA and OH
Text:
Primarily detailed photo captions with introductory text for each section
Maps and Diagrams:
Only one system map and five stick maps of divisions
Value for the Modeler:
Good source of photos of key locations in the area and a great study of early Conrail motive power
Purchase Value:
Good value for the quality and volume of photos it contains


Related Products: