by Alex Schust, Mason Cooper, Ken Bowen and Buddy French
Norfolk & Western Historical Society 2011

Review by Dan Bourque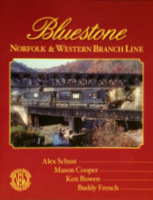 Bluestone, Norfolk & Western Branch Line is the first of a series published by the N&W Historical Society with each book covering a significant branch or series of branches in the N&W's coal fields. The Bluestone Branch was one of the N&W's first major branches in the coal fields, and it ran from a junction with the N&W's mainline near Bluefield, WV and continued northeast through coal fields and a connection with the Virginian at Matoaka and beyond.  This book covers the history of the branch's construction and the coal towns, mines and tipples that provided the coal that was the branch's lifeline. While it's not everything a modeler would want in a book, it's still a valuable resource for those interested in this area or coalfield history in the late 1800s and early 1900s.
The book is laid out geographically, and it follows the line as it expanded.  Each town and mining/tipple operation has its own section, and each section contains names, leases, acreage and tonnage from historical records. Photographs (mostly pre-WWII) and track diagrams accompany the text, and a few stories from newspapers or recollections are peppered throughout. Written as a history, the text isn't riveting, but it is thorough and consistent throughout the book. A final section covers passenger operations which were surprisingly robust on this branch. Because this was one of the earliest areas of the Pocahontas coal field served by the N&W, most of the mines in shut down in the 1940s or '50s, so consequently, 95% of the book covers the pre-WWII era.
What's missing in this book is the railroad's operations. There is almost no mention of how the N&W moved coal on this branch. About as close as it gets is the description of Clift Yard where we learn that 11 locomotives were stationed on the branch at one time, but there is no mention of how the mine runes were named, how often the tipples were served, how many mine runs were called each day, how many cars they hauled, which tipples each mine run served, or how the interchange with the Virginian was worked. As a modeler as well as a history buff, these are the kind of things I would like to know as much or more than the history of the towns and mines, especially in a book which at first glance appears to be focused on the railroad.
Despite this shortcoming, I still recommend this book for anyone modeling this area as it's a great collection of history, facts, photos and diagrams all neatly packaged. But for those of us interested in learning all the gory details about how the N&W worked the coalfields, the search continues.
Subject:
History of the Norfolk & Western's Bluestone Branch
Primary Era:
1880s – 1950s
Facts:
Pages: 122, Cover: softcover, Photos: 126 B&W photos, 8 color photos (cover), 77+ maps, diagrams, timetables 

Photos:
Historical photos covering mostly from 1900-1940 including tipples, towns, buildings, people (very few trains)
Text:
Thorough and full of historical facts, consistent in its coverage of each area of the branch
Maps and Diagrams:
Many track charts, some topos and maps, some timetables and even some handwritten letters and contracts
Value for the Modeler:
Good source of photos, track diagrams and history but little on operations
Purchase Value:
Fair price considering the niche market for this book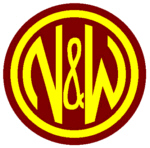 Related Products:
Type:
Auction
Bids:
0
Ends in:
6d 18h 56m